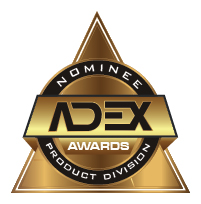 2016-17
Notes
functionality oyo® – delivers soothing rocking & sway motion. With flex in its body sculpted support structure, it intuitively moves with the user.

flexibility Can be used for conference, open plan collaborative & thinking spaces.

quality & durability The sleek, metal structure offers a rocking base, but with a robust, rigid frame. There is minimal flex in this frame which encourages the movement experience from the rocking base touching the floor. The seat & back are fully integrated with no seams or joints. It is weight rated up to 265lbs.

aesthetics Cleverly sculpted to accommodate multiple body shapes, sizes & sitting styles. There is simply nothing like it. It is quite unique & creates an emotional appeal to draw the viewer in. The design being fluid, communicates the expectation that this sitting experience should be fluid too, & it lives up to this promise. oyo® is 'Form follows Function' in its truest definition.

innovation oyo® is the embodiment of true innovation at every level. Specifically; it's innovative in terms of aesthetic, function, application & experience. oyo® challenges the conventional expectation of what a conference/collaborative seating solution should be. It liberates the senses & lives outside of the box in every way. It is an inspirational, functional piece of art.
Via seating
via seating is dedicated to the sweet spot of seating; great chairs, easy to get, from people who are passionate about the customer experience.

the sweet spot is;
• our portfolio of products is perfectly positioned in the mid-market
• our team is driven to create a positive customer experience
• our seating solutions offer great depth & breadth of line to meet our client's needs

comfort
Our chairs are first & foremost comfortable, but don't take our word for it. Take the tush test & feel for yourself. There's a science behind our proprietary cushion molds that encourage optimal sitting positions. So while others may look similar, they simply don't offer the initial or long-term comfort you feel from via seating.

quality
Our product development process is driven by sourcing & developing high-quality components. Details like drawstring assembly & hand-steaming of seat fabrics to deliver consistent quality help differentiate us. Our production crew takes enormous pride in their work.

people
The via seating team is genuinely considerate & respectful of the people we partner with & of the customer experience we create. That means everyone who touches our chairs during the manufacturing process is thinking of the client who will be sitting in the chair. Our people care, have can-do attitudes & are passionate about the customer experience.

ergonomics
We believe chairs are the single most important factor that impact health & wellness at work. We also believe ergo chairs don't have to be ugly. We take our responsibility for ergonomics very seriously, it's an art & science we are passionate about. Our chairs are designed with optimum support, intuitive ease of adjustment & are built with quality components. We are driven to deliver the best fit chair for every body type.

48-hour ship
Compare our lead times with other quick-ship programs & you'll find we offer a greater selection of quality seating with a broader range of options. Our in-stock fabric offers a wide range of colors & textures to select from. Choose a chair using our in-stock program & we can have it on a truck in 48 hours or less. The point: our customers get their chairs when they want them.

American pride
Patriotism runs deep at via seating. Our chairs are manufactured in Sparks, Nevada. The majority of our components are domestically sourced. via seating products are designed with the North American market in mind.

100% commitment to quality
via seating is driven by quality of the highest order. Our standards reflect this. Every chair is produced with the highest quality components, & each chair is carefully tested & inspected before it's shipped. That's via seating's commitment to quality. That's via seating's commitment to you. 100% of the time, for 100% quality. Quality, the via seating way.