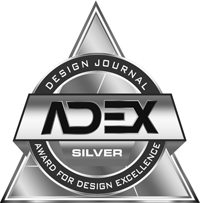 2016

The unique elliptical holographic film enhances lateral distribution without disturbing the asymmetric beam in the forward plane. High Efficacy-85 lumens per watt (based on 3500K, 80 CRI at 700mA drive currents and excellent lumen maintenance-L90(10k)>60,000 hours per TM-21.
The S144 features proprietary optics to shape the light from an array of LEDs into a highly effective asymmetric distribution. The asymmetric distribution is ideal for illuminating surfaces evenly from one edge (i.e. lighting a wall uniformly from the ceiling). The outer cover lens softens the beam slightly in the forward plane while enhancing the lateral distribution.
The light engine consists of an extruded aluminum body with the LED circuit board. The light engine is installed into an aluminum housing. Heat is thermally conducted away from the light engine and distributed to the housing. The housing is passively cooled through convection and radiation. The external surfaces are treated with a highly emissive coating to enhance radiant cooling.

Sustainability
• Our luminaires are all aluminum and stainless steel construction with many units still in service after 35 years – avoiding the landfill for decades
• Our LED drivers and light engines are serviceable for replacement or future upgrade
• Our LED drivers and light engines are lead free and RoHS compliant
• We offer end of life disassembly and recycling instructions including links to local recycling facilities
• We review our electricity and water consumption used in the manufacturing of our luminaires and continually strive to make reductions each year

Notes
High Efficacy 85 lumens per watt based on 3500K, 80+CRI
Excellent lumen maintenance L90(10k).60,000 hours per TM-21
The Lighting Quotient
Founded in 1977, The Lighting Quotient descends from the former lighting design firm of Sylvan R. Shemitz Associates. The company, based in West Haven, CT manufactures all of its products in the USA and is certified by the Women\'s Business Enterprise and the DOD\'s Woman-Owned Small Business Program.
The companys two divisions-elliptipar® and tambient® - use precise engineering to create design-foward, energy-sensible solutions that balance optical performance with elegant artistic design. From simple utilitarian structures to grand architectural masterpieces, The Lighting Quotient provides solutions for asymmetric and task ambient lighting.