LED Architectural Flood Lights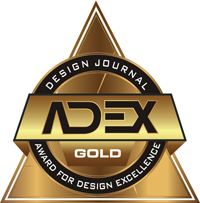 2016
The specification-grade luminaires are available in multiple lumen packages and two optics for creating bold effects, or highlighting the finer details of landscapes, commercial buildings and other exterior structures. The MaxLite LED Architectural Flood Light series provides outputs ranging from 5,660 to 13,940 lumens, equaling the performance of 175- to 400-watt metal halide fixtures but consuming 70 percent less energy. The series is offered in wide and spot optical distributions to suit an array of applications, including accent and facade, wall washing, flags and signage, statues, monuments, pedestrian pathways and parking lot displays. MaxLite LED Architectural Flood Lights produce beautiful, neutral white light in a color temperature of 4000K.
The fixtures are constructed with a sleek, curved aluminum body and tempered glass front that creates a clean, contemporary look that blends beautifully into any outdoor space. The electrical and optical assemblies are IP-65 rated to protect the fixture against harsh environmental factors and ensure durability and longevity. The lights are easy to mount and adjust using the provided threaded knuckle or slipfitter arm.
MaxLite LED Architectural Flood Lights are rated to a lifetime of 100,000 hours at L70 standards and come back with a five-year limited warranty and lifetime product support.
Notes
For complete specifications, view the product page at: http://www.maxlite.com/products/led-architectural-floods
MaxLite has 25 years of experience providing energy-efficient lighting products to the commercial building, residential and OEM markets. A five-time ENERGY STAR® Partner of the Year, MaxLite offers an extensive line of certified LED indoor and outdoor lamps and luminaires, supported by the highest standards of quality assurance and customer service.We work with our customers to ensure our products meet the needs of their installation by providing a full range of complimentary services, including: • Facility audits • Lighting layouts • ROI calculations • Utility rebate assistance • Local representation • Lifetime product support. We keep our products in stock and available for immediate purchase and delivery, shipping within the United States in one to three business days on standard orders. For more information, visit MaxLite.com, call 800-555-5629, email info@maxlite.com, or follow us on LinkedIn, Facebook and Twitter.