Amplify Wallcoverings & Window Films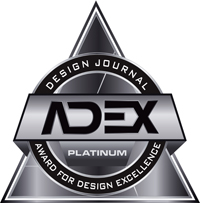 2017
Amplify comes in both Self-Adhesive and Paste-Up options. From our most cost effective Thrifty, to our 17-mil canvas texture Structure, to our LEED contributor, Pebble, there is a range of choice for every requirement, style preference and budget.
Window Films come two ways. Lucid is optically clear and so sheer, the impressions it creates are limitless. Ghost is frosted providing decorative privacy while allowing light and the personality of your space to shine through.
Sustainability
Our featured paste-up wallcovering Pebble, has a minimum of 31% post-consumer recycled content and is itself recyclable. This gorgeous finish is also PVC-free, phthalate-free, and contains zero plasticizers, chlorine, heavy metals, or formaldehyde
Pricing
Pricing depends on product chosen as materials vary.
Branding Space. Moving people.The synergy between your brand and space has inspired us since we introduced our first industry innovation in 2003. Today, our design DNA continually drives us to push the boundaries of your brand's potential in the built environment. We'll help you make a lasting impression. Start with wayfinding – our practitioners will help you greet each visitor and guide them to their destination in a visual voice uniquely yours – welcoming and on brand. Once there, immerse them in a sophisticated visual experience of who you are. You'll start the conversation and foster a relationship before the first handshake and every moment after.Our people, process and products are focused on enabling you to tell your brand story – eloquently and effortlessly. From design and manufacturing through installation and ownership services – we are fully integrated to assure you a streamline process and optimal outcome.We believe unifying brand and space has the power to move people.