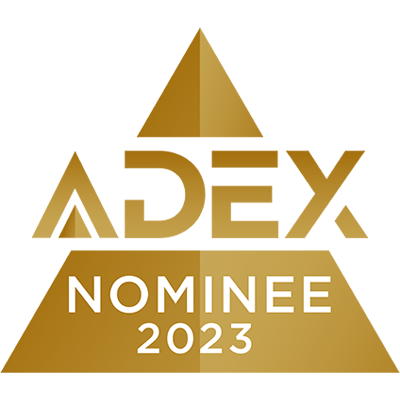 Kirei, a provider of innovative eco-friendly design materials for any interior, announced the launch of the Air Baffle: a unique acoustic ceiling baffle inspired by the clean, modern lines of the Nike Air Max and made from recycled shoes and water bottles. 

The innovative ceiling baffle combines the acoustic performance of recycled PET felt with a soft filling made from Nike Grind, a mix of recycled materials created from Nike's end-of-life footwear. Designers can pivot spaces to a softer look and sound with the sleek curved baffles, which feature windows to view sustainable Nike Grind inspired by classic Nike Air Max air bubble windows.

"The Air Baffle is a window to the future of acoustics," says John Stein, President of Kirei. "This is Kirei's highest performing and most sustainable product yet. Air Baffle is one more step towards a sustainable future, reducing waste and supporting a circular product life cycle with Nike Grind."

Renowned product designer Michael DiTullo created Kirei's Air Baffle drawing from over 20 years of experience creating iconic products for brands such as Google, Honda, Converse, and more. DiTullo has been a Creative Director at Kirei since 2019, and he previously spent nearly a decade contributing to footwear design, packaging direction, ad campaign direction, and brand positioning for Nike. DiTullo's expertise in both acoustic and sneaker design provided the perfect skill set for the unique Air Baffle collection with Nike Grind.

"In my career, I have worked on hundreds of shoes for Nike, Jordan, Converse, and other brands. It was a real joy to design a product that helps rescue those shoes from the landfill at the end of their useful life as footwear and find a new, long-lasting use case for them as a visually striking architectural acoustic product." DiTullo said.

Made from 12mm EchoPanel®, Air Baffle is available in 40", 48", 72", or 96" lengths in any of EchoPanel's 33 subtle to striking colors. The ceiling baffle comes fully enclosed or with the option of a short or long window. The windows are 3mm thick in a matte finish, made with Class A fire-rated PETG (specially formulated co-polyester resin). The plastic has excellent chemical resistance and is GREENGUARD indoor air quality certified. It also contains 40% pre-consumer recycled content, is 100% recyclable, and qualifies for LEED MR Credit 4 and IEQ Credit 8/1 & 8.2 (daylight and views). The ceiling baffles are shipped ready to install using suspension cables and mounting hardware – no assembly required.

For more information on Air Baffle by Kirei with Nike Grind, please visit www.kireiusa.com.

Sustainability
The Air Baffle exterior is made from EchoPanel®, a registered trademark of Woven Image®. It is a low VOC, Red List Free material with published ingredient transparency through Declare and third-party certification by Global GreenTag. Made from over 60% recycled PET, each panel diverts 235 single-use plastic bottles from global landfills and waterways. Since 2004, Woven Image has recycled over 5,505 tons of PET plastic, equivalent to more than 275 million 600ml plastic bottles. 

The Air Baffle is filled with post-consumer textile fluff from Nike Grind, a global sustainability program that helps transform manufacturing scrap and end-of-life shoes into recycled Nike Grind Materials. For nearly three decades, Nike has been incorporating Nike Grind materials into product design, retail spaces and workplace environments at Nike World Headquarters and around the globe. From furniture to running tracks, skateboards to space shuttles – innovation is at the heart of the Nike Grind program. 130 million pounds of Nike Grind have been recycled into partners' products since 1992. 
Since 2002, Kirei has brought beautiful, sustainable and functional design elements to interior designers, architects and end users across North America. Kirei continues its mission to "Inspire a Beautiful World" through a design ethos based on elegant and sustainable design. To date, that intrepid focus has resulted in diverting over 250 million plastic bottles from landfills, giving each bottle renewed purpose as a new design material. This mission has also provided designers with unique products and acoustic solutions to help design great spaces to live, work and play. As such, Kirei distributes EchoPanel and AKUART, decorative and functional designer acoustic products that give designers the visual and acoustic tools to create productive, healthy interiors.
The visually-dynamic and versatile EchoPanel collection of wall and ceiling panels, systems, tiles and partitions are available in standard or custom options to address various acoustic needs in commercial, retail, hospitality, healthcare and education environments. EchoPanel is manufactured by Woven Image, responsibly sourced and made from recycled materials to qualify for LEED credits and other green building or sustainability certifications and is recyclable at the end of life. EchoPanel is a celebrated product, receiving such industry accolades as The Architect's Newspaper's 2020 Best of Products award, interiors + sources 2020 Product Innovations Award, and a 2020 GOOD DESIGN award.
In addition, Kirei is the exclusive North American distributor of AKUART, a leader in creating infinitely customizable framed acoustic design elements with an easily changeable canvas. Made from sustainable materials and advancing visual soundscape solutions, AKUART's four framed acoustic design elements—'On The Wall' acoustic wall panels; 'Hang With Me' suspended acoustic panels; 'Stand By Me' free standing acoustic wall screens; and 'Shelter Me' acoustic desk screens—allow designers to select from a variety of art or custom imagery. Each canvas is machine washable, bleach-cleanable and replaceable.