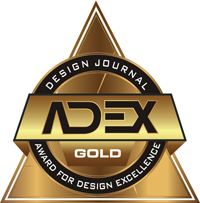 2015
BDI
For over 30 years, BDI has been driven by a passion for great design. Founded by Bill Becker in 1984, BDI is an industry leader in the categories of media and entertainment furniture, office solutions and modular systems. The collection is rounded out with complementary occasional tables, shelving and bar cabinets and carts. The company has built a reputation for designing beautiful furniture that innovates and elevates the consumer experience while seamlessly integrating technology into the home and workplace.

BDI's designs are known for their intelligent design and innovative features, engineered to enhance the user's everyday life. The company's line of media furniture beautifully combines unique styling with integrated features such as hidden wheels, cable management and flow-through ventilation, designed to present and protect today's demanding A/V components.

BDI's office furniture offers versatile solutions for the home or workplace. Addressing the needs of today's technologies, BDI blends great design and user-friendly features, allowing the user to create a workspace that is organized, efficient and inspiring.

BDI works with some of the industry's leading furniture and industrial designers, bringing fresh ideas to the marketplace. BDI's designers have been the recipients of such industry accolades as the ASFD Pinnacle Awards and the Edward Haimsohn Design Award by the Contemporary Design Group.

BDI's products can be found at finer home furnishings and consumer electronics retailers throughout the US and Canada, as well as Italy, the UK, Greece, Russia and more.

Visit BDI online at bdiusa.com.