RSA MRZ Multi-Head LED Luminaires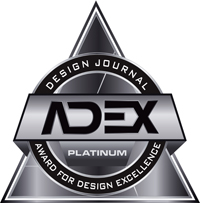 2018


The MRZ luminaires offer a multitude of versatile options and features. The family is available with one, two, three or four integral head configurations and a choice of three beam distributions including 25 degrees (narrow flood), 40 degrees (flood) and 55 degrees (wide flood) to accommodate accenting needs. Each adjustable fixture head allows for 45-degree tilt and 360-degree rotation for full aiming flexibility, putting the light exactly where needed. The optics are also interchangeable in the field. In addition, a variety of industry standard lenses and louvers are available to help shape the light distribution including Linear Spread Lens, Soft Focus Lens, Hex Louver and Snoot.

The fixtures are available with a Flanged trim option for acoustical tile, which features a slim 0.75-inch trim to help hide any imperfections from cutouts of ceiling materials or a Mud-in trim for gypsum board ceilings for a clean and trimless look. A tapered trim of 0.8-inch helps contractors have minimal depth variance.

Additional options available include:
• A choice of 2700 Kelvin (K), 3000K, 3500K and 4000K color temperatures and 80 or 90 color rendering index
• Three housing and trim color option choices of white housing and white trim; black housing and black trim; and black housing with white trim
• Multiple lumen packages ranging from 250 to 1700 lumens per head
• An emergency battery pack to aide in fixture conditions needing egress outputs
• A Ship Ahead Housing Program that allows the fixture housing and trim to arrive before the LED head assembly

The option to include Eaton's WaveLinx wireless system provides a simple to install, wireless, code-compliant and cost effective connected lighting system that allows building managers to easily adjust settings through a mobile app with no need to go back into the wall – even after the project has finished. The option to include Eaton's LumaWatt Pro wireless connected lighting system helps customers maximized potential energy savings by incorporating the Portfolio 2-inch fixtures in a distributed network of smart LED lighting fixtures with wireless sensing capabilities that capture real-time data on lighting energy performance, space utilization, real time location services and building system integration.

Sustainability
Energy Efficient LED Technology
Notes
• Family of one, two, three, or four Head fixtures
• Flanged trim and Mud-In trims. Fixtures are IC rated
• Lumen packages from 250 to 1700+ per head in 80+ or 97+ CRI, +110 LPW
• 25˚, 40˚, 55˚optics / Each head has 45˚ tilt with 365˚ degree rotation
• Black Housing & White Trim /White Housing & Trim /Black Housing & Trim
• 0-10V std dimming. Optional: 0.1%, 1%, Lutron, and Fifth light DALI
• LumaWatt Pro and WaveLinx connected lighting platforms available
• Linear Spread Lens, Soft Focus Lens, Hex Louver, and Snoot Option
• Chicago Plenum and EM battery Options

Eaton
Eaton Lighting delivers an industry-leading portfolio of innovative lighting solutions for connected buildings, homes and communities, including reliable indoor and outdoor smart lighting and control solutions specifically designed to simplify and personalize lighting for consumers, help solve complex business challenges and leverage data insights to meet customers' unique needs. Eaton lighting solutions serve a wide range of customers, including architects, engineers, facility managers, municipal leaders, electrical distributors, and contractors in the commercial, industrial, retail, institutional, residential, utility and other markets. For more information, visit Eaton.com/lighting.