Portfolio 2-inch LED Downlights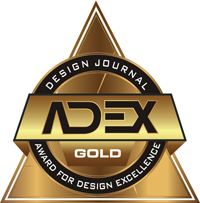 2018


The architectural 2-inch family provides customers a small aperture, energy-efficient and high-performing downlighting and wall washing solution for hospitality, retail, institutional, healthcare and commercial office environments.

Customers have numerous choices when selecting from the Portfolio 2-inch family to satisfy specific application needs, including:
• A choice of 500, 1000, 1500 or 2000 lumens packages.
• Light beam distributions offered in 15-, 25-, 40- or 55 degrees.
• An unprecedented choice of six color temperatures including 2400K, 2700K, 3000K, 3500K, 4000K and 5000K.
• An impressive offering of 80, 90 or 97 color rendering Index (CRI) options.
• An emergency battery back-up option.

The product line features a round housing that accepts both the square or round trims. The trims feature high quality die cast construction and satisfy both downlight and wall wash needs.

Dimming LED products reduces the light output but doesn't change the color as it does when dimming standard incandescent sources. The D2W technology is designed to perform comparably to popular halogen sources, providing clean, crisp light at full power of 3000K and dimming smoothly to 1850K, which creates a rich, warm glow, resembling candlelight.

The option to include Eaton's WaveLinx wireless system provides a simple to install, wireless, code-compliant and cost effective connected lighting system that allows building managers to easily adjust settings through a mobile app with no need to go back into the wall – even after the project has finished. The option to include Eaton's LumaWatt Pro wireless connected lighting system helps customers maximized potential energy savings by incorporating the Portfolio 2-inch fixtures in a distributed network of smart LED lighting fixtures with wireless sensing capabilities that capture real-time data on lighting energy performance, space utilization, real time location services and building system integration.

The Portfolio 2-inch solutions are ENERGY STAR® certified.

Sustainability
Energy Efficient LED Technology
Notes
• ENERGY STAR® certified
• 80, 90 or 97 CRI
• 2400K, 3000K, 3500K, 4000K and 5000K
• D2W option - LED warms from 3000K to 1850K
• Standard 0-10V driver dims to 1%
• Cast or spun aluminum reflectors
• Compatible with WaveLinx and LumaWatt Pro connected lighting systems
• Available with 15°, 25°, 40° and 55° distributions
• Easy disconnect for LED engine replacement and installation

Eaton
Eaton Lighting delivers an industry-leading portfolio of innovative lighting solutions for connected buildings, homes and communities, including reliable indoor and outdoor smart lighting and control solutions specifically designed to simplify and personalize lighting for consumers, help solve complex business challenges and leverage data insights to meet customers' unique needs. Eaton lighting solutions serve a wide range of customers, including architects, engineers, facility managers, municipal leaders, electrical distributors, and contractors in the commercial, industrial, retail, institutional, residential, utility and other markets. For more information, visit Eaton.com/lighting.