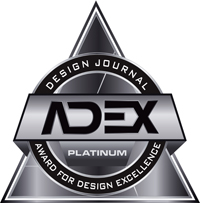 2017


Lux is equipped with Perimeter Aspiration, a technique that moves airflow away from the central area of the hood and evenly distributes it through narrow openings around the perimeter. This ventilation method increases air velocity and improves the capture of cooking contaminates. Perimeter Aspiration ensures the hood will keep the kitchen free of smoke and debris and can handle powerful cooking jobs over European- or professional-style ranges.

Lux features a Wireless Remote Control that lets the user easily control the hood's functions with a push of a button. Given the hood's integrated design, this is a convenient feature that controls the 3-speed levels, and tri-level lighting. In addition, Lux features LED light strips (3, tri-level) that are not available on similar products. The capacitive touch remote control and our ability to offer multiple blower options is also a competitive advantage and not found on other range hoods. Zephyr also offers a Dual Internal Blower (1,100 CFM) and Clean Air function that is exclusive to Zephyr.

While design remains a top priority for consumers, it is also important that appliances include features that increase functionality and the overall user experience. The Lux Island includes a Clean Air Function that turns your hood on once every four hours for 10 minutes on speed one. This allows the hood to continuously recirculate the air throughout the day to ensure the kitchen air is clean and fresh.

Awards
BH&G "30 Most Innovative Products"
Spark Award (Bronze)
Notes
Internal Blower 240-600 CFM, 1.8-6 sones
Internal Blower 500-1,000 CFM, 3.5-8 sones
In-Line Blower 500-1,000 CFM, sones N/A
External Blower 500-1,000 CFM, sones N/A
Capacitive Touch
3-Speed Levels
Auto Delay-Off
Clean Air Function
LED x 3 Tri-Level Lighting
Aluminum Mesh Filters
Wireless Remote Control
Recirculating


Zephyr Ventilation
Since 1997, San Francisco-based Zephyr designs and manufactures design-forward, kitchen ventilation hoods. Teaming with leading designers, Zephyr's product lines include the Arc Collection, with models by industrial designer Robert Brunner; the Cheng Collection by Zephyr, created by renowned designer Fu-Tung Cheng; the sleek, affordable Europa Collection of Italian-made hoods; and the high-performance Power Series.