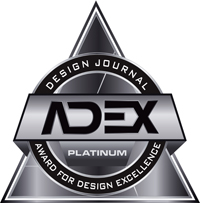 2015
With Sierra, Kindle Living has honored their roots with a design celebrating the beauty and spirit that defines the California state of mind - a tribute to 840 miles of dramatic coastline, and the mystery and magic of her screen-stealing glamour. The Sierra is a work of elevated craftsmanship. It's artistry without compromise, detailed perfection for those who appreciate the wonder of one-of-a-kind.
Awards
• A'Design Award Winner 2014 Silver
• Best of BDNY
Kindle Living
Kindle Living Heaters

Kindle Living products are defined by their ability to challenge assumptions, to raise the bar on innovation and what it means to re-imagine.

Essentially unchanged since the 1960's, outdoor heaters have become a poster-child for ho-hum utilitarian design – all function and no form. Sculptural, sophisticated and packing plenty of heat, Kindle Living heaters offer a modern interpretation of an outdated standard – the chicest solution to the not-so-small detail of keeping guests warm outdoors.

The goal at Kindle Living is to alter expectations and push boundaries with a product that is equal parts invention, innovation, and beauty. Have they excelled in creating a superior system of staying warm outdoors? Certainly, but that's not the only thing that gets them fired up. Their products are lifestyle by way of mood, atmosphere, function and style - the wonder that takes the user by surprise, the answer to the question of what took so long.

From the formal welcome of a hotel entrance to the casual gathering of a backyard barbecue, the 'outdoor room' has become modern vocabulary as people look for ways to extend and elevate the al fresco experience. Kindle Living Heaters are transformation through warmth, light, color and scale. Able to move seamlessly from the grand to the intimate, modern to traditional, Kindle Living heaters push the boundary between indoor and outdoor space, bringing high-end design and luxury comfort to outdoor entertaining, finally bridging the gap. Because there is an aesthetic value to the products separate from their ability to heat, Kindle Living heaters are appreciated and enjoyed year-round.

Kindle Living is proud to be 'Made in the USA', with both the design studio and manufacturing partners located in Southern California. Kindle Living is committed to green ideals.