Portfolio Surface-Mount LED Luminaire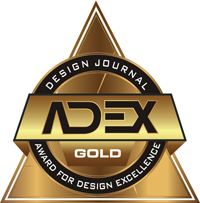 2015
The Portfolio surface-mount product offers customers a high-performing, versatile luminaire. The luminaire's superior optical performance, low power consumption, low life cycle cost, multiple mounting configurations and architectural design serve as an ideal solution for both retrofit and new construction opportunities, as well as those with limited plenum space or hard to access areas.
Providing a wide distribution, the WaveStream LED technology features laser-precise AccuAim™ optics arranged in exacting patterns to provide unparalleled brightness control and visual comfort, while delivering the maximum amount of light on task.
The Portfolio Surface-Mount LED Luminaire is available in five lumen packages ranging from 4,500 to 9,000 lumens, four correlated color temperatures including 2700 Kelvin (K), 3000K, 3500K and 4000K and in 80 or 90 color rendering index to satisfy more application needs. The high efficacy luminaire delivers up to 100 lumen per watt. Featuring a clean, artistic design, the product is offered in multiple mounting options including ceiling-mount, wall-mount, pendant-mount or suspended by aircraft cables. The product is available in white, black, bronze and silver painted finishes.
The luminaire is equipped with a zero to 10 volt or trailing edge standard dimming driver for control. The luminaire is also available with a native Fifth Light Digital Addressable Lighting Interface (DALI) driver option for complete digital energy management in some configurations.
Sustainability
LED technology
Notes
-Standard dual dimming 0-10V/trailing edge driver
-Optional Fifth Light DALI or 1% 0-10V driver
-Available in five lumen packages with wide distribution
-80 or 90 CRI
-2700K, 3000K, 3500K or 4000K
-Available in surface, wall or optional pendant or aircraft cable
-Five year warranty

Eaton
Eaton Lighting delivers an industry-leading portfolio of innovative lighting solutions for connected buildings, homes and communities, including reliable indoor and outdoor smart lighting and control solutions specifically designed to simplify and personalize lighting for consumers, help solve complex business challenges and leverage data insights to meet customers' unique needs. Eaton lighting solutions serve a wide range of customers, including architects, engineers, facility managers, municipal leaders, electrical distributors, and contractors in the commercial, industrial, retail, institutional, residential, utility and other markets. For more information, visit Eaton.com/lighting.