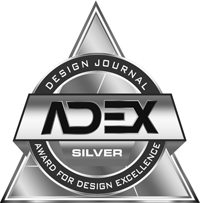 2015
Pricing
Pricing available from MTI distributors. See MTI Dealer Locator for contact information for a dealer convenient to you.
Notes
Measuring 65" x 34" x 22", the Laney 1 is available as a soaking tub or with MTI's state-of-the-art hydrotherapy: air bath system, whirlpool or combination.

Handcrafted of high-gloss Lucite® cross-linked cast acrylic, which is extremely scratch- and stain-resistant. It is non-porous, which makes cleaning and sanitizing easier and more effective. Proudly Made in the USA.
MTI Baths
Since 1988, MTI has earned a reputation for impeccable quality, innovation, unique customization for air baths, whirlpools and soaking baths in over a 150 models in a variety of colors with endless options. MTI offers a line of sinks, shower bases, glass enclosures and bath furniture. Design Expertise. MTI has an in-house design team that is experienced in working with world-class architects, designers, developers and hotel chains to develop top-quality bath products based on the requirements of the project. Proudly Made in the USA. mtibaths.com