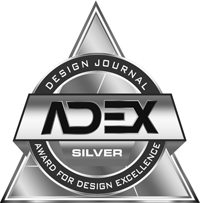 2015


Based on the latest in Remote Corrected Cold Phosphor Technology by Xicato, the LumeLEX 2030 Series has the highest Color Rendering Index of any LED on the market today while producing the most consistent, highest quality white light and maintaining extremely tight color control (within 2 MacAdam ellipses, vs. the NEMA standard of 7). The LumeLEX 2030 Series can be specified with a Color Rendering Index (CRI) of: 98 (high) or 83 (standard) as well as a choice of color temperatures: 2700K (warm white) or 3000K (neutral white).

To ensure the fixture remains focused, the LumeLEX 2030 Series features a locking stem for horizontal and vertical planes as well as a snap-out accessory cartridge with integral cross baffle. The accessory cartridge accepts up to two accessories at any one time, including louvers, glass color filters, spread lenses, light blocking screens and highly efficient thin films for shaping the light. 15 or 40 degree beam spread optic included with fixture.

Sustainability
LED module is removable and can be sent back to manufacturer for recycling.
Notes
The LumeLEX 2030 Series differentiates itself from the pack by offering field changeable optics (15 or 40 degree beam spread), and a full range of internal accessories for manipulating the distribution of light, much like you can do with any halogen source.
Lighting Services Inc
Lighting Services Inc

Lighting Services Inc (LSI) is the leading manufacturer of Track, Accent, Display and LED Lighting Systems. Since 1958, LSI has been dedicated to designing, engineering, and manufacturing the highest quality lighting systems.

Our reputation for creativity, innovative design, and leading technology coupled with specification grade products and intelligent personalized service, has made us the manufacturer of choice among the most discriminating specifiers of lighting. It is the appreciation, respect, and continued support of our clients that we use to measure our success.

With representative agencies worldwide and products featured in world famous museums, high-profile retail stores, theme parks, casinos, restaurants, houses of worship, and more, Lighting Services Inc prides itself on manufacturing the highest quality products.
Log onto Lighting Services Inc's website: www.LightingServicesInc.com to access QuickTime virtual reality viewing of the latest products as well as information on all LSI products, downloads, Designers, Representatives, installations and industry resources.