Indy Designer Series LED Downlights and Wall Washers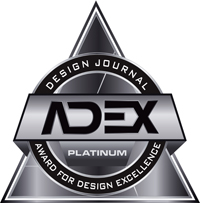 2015


The latest version of Indy Designer Series LED Luminaires offers black body dimming technology, which provides the ability to meet every lighting challenge and achieve lighting effects at a level of precision not previously available. With the black body dimming feature, color temperature warms from 2700K to 1800K, following the Black Body Locus throughout the dimming range. The warm glow perfectly simulates halogen dimming while offering all the benefits of LED illumination.

In addition, the Indy Designer Series fixtures feature a unique, computer-optimized reflector system that eliminates scalloping and produces light with exceptional uniformity. Deep source regression and reflector angle produces low-glare room illumination with 40-degree cut-off to lamp and lamp image.
Sustainability
The industry-leading fixture efficacies of the Indy Designer Series reach up to 70 lumens per watt, while still producing prodigious amounts of light at a comparable level to 26, 32, 42 and 52 watt CFLs and consuming as little as 20 percent the energy. With black body dimming technology, the latest version of these luminaires consumes one-fourth the energy and lasts about 15 times longer than halogen fixtures.

They meet the requirements of such sustainability initiatives as ENERGY STAR® for select trims, have no UV or IR emissions; no dangerous mercury, lead, or PCBs; and are fully RoHS compliant.
Awards
2014 Plant Engineering Product of the Year finalist: Lighting
Pricing
Pricing is based on the size and scope of a project. Please contact a Juno Lighting Group representative for additional information.
Indy