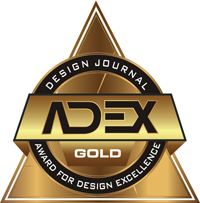 2015
The elegant black glass door, featuring new TipOpen technology offers seamless integration into handle-free kitchen furniture. This well-designed wine cabinet can hold up to 34 bottles and when gently tapped, the glass door automatically opens to 7 cm, offering convenient access to enable full opening. If the door is not opened further within about three seconds, the soft-closing system automatically closes the door again, safeguarding your precious wine. Since the wine cabinet ventilates through the toe kick, no counter slots are necessary and the cabinet can be integrated easily and elegantly into your kitchen. This sleek wine cabinet offers a number of innovative solutions for wine storage including an accurate electronic control system that can be set to the degree required in the range of 41˚ to 68˚ F or 5˚ to 20˚ C. The functions are easy to operate via the MagicEye touch screen control panel that is integrated into the insulation layer between the temperature zones, making it possible to set two different temperatures within the unit. Store red and white wines according to your preference — use the entire cabinet for one or store both, each at its optimum drinking temperature. This wide range makes the control suitable for all reds, whites and champagne. As a true wine storage unit (and not just a refrigerator) the unit also has heating capabilities to maintain accurate temperature when the location of the unit is colder than the desired set temperature. In addition to the constant temperature feature, the ideal climate is also created with exceptional air quality. Liebherr's design uses re-circulated forced air-cooling and a permanent fresh air supply via an easily exchangeable activated charcoal filter. Humidity is set between 50 and 80 percent permitting wine to breathe as it matures and to keep corks supple. The insulated glass door with UV protection safeguards your precious wines from unwanted light. Plus specially developed, quiet compressors ensure that the unit has the lowest vibration possible because fine wines love peace and quiet as much as anyone. With the new sleek Liebherr WUgb 3400 you will enjoy a top-quality wine experience before you even select a bottle.
Sustainability
An industry leader in green manufacturing, Liebherr's entire North American product line meets or exceeds the ENERGY STAR qualifying criteria. Environmentally friendly LED lighting is not only ideal for presentation of your finest wines, but also uses less energy than conventional appliance lighting and also won't heat up the compartment. A convenient door open alarm ensures the door is not left open to allow fluctuation in temperature and wasting energy.

Liebherr's models are RoHS compliance. RoHS stands for the Restriction Of the use of certain Hazardous Substances in electrical and electronic equipment, eliminating the use of major hazardous substances in the production of Liebherr products such as lead, mercury, cadmium and certain types of chrome and biphenyl. Liebherr's packaging materials on all products are 100% recyclable. The water used in the production process is purified and pollution-free and the energy released during production is recovered and utilized again in heating the manufacturing environments

Notes
High quality materials, perfectly detailed finishes, precise electronic control systems, elite cooling components, variable speed compressors and the latest production processes ensure energy efficiency and performance for years to come. An innovative Liebherr wine cabinet offers the best use of space as well as maximized preservation, and incorporates smart features ideal for storing wines for long periods of time, allowing them to mature to perfection. Liebherr's website also offers a Wine Guide that details proper wine storage and serving tips helping to ensure the maximum enjoyment of one's favorite wine.
Liebherr North America
Liebherr is known for product excellence and innovation in freestanding, fully integrated, built-in and wine storage refrigeration units. Liebherr takes the lead in both environmentally conscious manufacturing practices and energy efficient products. Key product features and why they are important: Better Food Preservation Highlighted by dual refrigeration and Liebherr's patented BioFresh® system, Liebherr products create the ideal climate for perfect preservation and long-term freshness. BioFresh® is unparalleled in the industry – high humidity compartments actually create an environment where vitamins in fresh fruit and vegetables can continue to grow. Groceries last longer and are more nutritious. Better Use of Space Innovative FrostSafe freezer drawers keep cold air from escaping when the door is open. These individual transparent drawers make all items easy to see and access – even at the very back of a bottom mount refrigerator. Liebherr's removable and flexible drawer system, called VarioSpace, allows expansion for oversized items such as a turkey or large container. Better Energy Efficiency and Noise Control The refrigerator is the only appliance in the home that runs 24/7. For this reason, high efficiency is essential for energy savings and the environment. Liebherr's variable temperature compressors are always on at the perfect speed – there are no "on" and "off" surges that eat up power. Competitive products place their compressors on top at the front of the unit and essentially, act like a speaker to the kitchen. Liebherr compressor systems are at the bottom and the back, and are therefore SuperQuiet - virtually silent to the human ear. Beautiful, Contemporary Design With strong European influences, the sleek look of Liebherr products hold strong appeal to every kitchen décor. Liebherr offers the professional styling of stainless steel finishes or the choice to use with an overlay or framed to match cabinetry. This flexibility and the attention to detail is coveted by the design trade. The list of green achievements by Liebherr, is a long one, and ActiveGreen best summarize Liebherr's proactive stance. ActiveGreen is a corporate mission to achieve the highest ENERGY STAR® rating, to set the example and encourage other North American manufacturers to be RoHS compliant as Liebherr did in mid-2007, and to have the least damaging effect on the environment through responsible manufacturing practices. Liebherr's entire product line of indoor refrigeration meets and exceeds the new guidelines for ENERGY STAR®, making Liebherr the only brand in the North American marketplace to achieve these standards. All Liebherr appliances in North America met RoHS compliance making Liebherr the FIRST refrigeration manufacturer to comply with this practise worldwide. Liebherr's longstanding list of responsible production initiatives: -Liebherr was the first appliance manufacturer worldwide to remove CFC's completely from the production process in 1993 -Since 2000, Liebherr's considerable investment to ensure environmental compatibility has resulted in the reduced use of chemicals, solvents and energy consumption -Liebherr has established central waste and resource collection stations at their manufacturing facilities -The packaging materials on all products are 100% recyclable -The water used in the production process is purified and pollution-free -The energy released during production is recovered and utilized again in heating the plants