Aspecta LVT Plank & Tile by Metroflor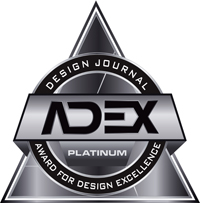 2015
Aspecta was built on three pillars of excellence in Design, Color and Texture with a range of 52 planks, 33 stone and 25 abstract tile floors developed for the global design community. The Dry-Back flooring offers tremendous breadth of design expression spanning metal, abstract, solid hues, concrete and wood and stone visuals, enhanced by the most authentic textures on the market.
Aspecta will be available globally through a network of approved wholesalers and contractors who are professionally trained to ensure that installation will be to the highest professional standards.
Sustainability
Metroflor Corp.'s Aspecta views sustainability as a fourth pillar of excellence in the luxury vinyl flooring business. The company has viewed all its policies, products and processes through a green lens. Third party verification supports the truthfulness and accuracy of their environmental initiatives. The plant has attained ISO 9001 and ISO 14001 along with Platinum NSF 332 resilient flooring certification for Aspecta's tiles and planks, which together with their adhesives are FloorScore certified to assure strict quality standards and good indoor air quality. Aspecta was bestowed NSF 332 Platinum Certification, the highest under the standard and the first resilient flooring to receive it.

In terms of manufacturing, ASPECTA only uses 100% virgin vinyl, non phthalate plasticizers and urethane ceramic bead coating.

End of life matters to Aspecta, too. A one-call reclamation process enables contractors to return installation cuttings or replaced vinyl flooring to the company to be processed into vinyl products.

Metroflor Corp. uses the latest manufacturing techniques to minimize emissions and water consumption, increasing its use of renewable energy. The holistic approach to environmental concerns embraced green construction, so they built their Calhoun, Georgia office to attain LEED Platinum certification status.

Awards
Buildings Product Innovation 2014 Merit Award
Pricing
Installed price of $6.50/sq.ft. - $7.50/sq.ft. (depending upon the degree of floor preparation required and the location of the project).
Notes
NSF 332 Platinum Certified
FloorScore Certified
Multiple Formats: 4" x 36" / 6" x 48" / 7.25" x 48" / 9" x 59" / 12" x 24" / 18" x 18" / 24" x 24"
Multiple Authentic Textures: Hone Stone / Satin / IRE Tile / Barnside / Light Wood Tick / IRE Plank / Hand Scraped / Brushed
3.2mm Gauge / 28 Mil Wear layer / 25-Year Commercial Warranty