Plug-and-Play LED Lightbars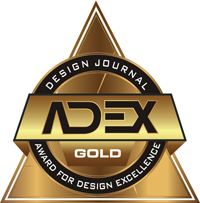 2015
The lightbars are damp-listed for use in indoor locations with high condensation, such as bathrooms, utility rooms and indoor pool areas. They have also earned certification from the National Sanitation Foundation (NSF), and may be used in food and beverage processing environments.
A new ETL-listed connection box allows installers to make a hardwired connection to the lightbar system. The unique profile allows the wiring connection to be located in a wide range of locations and comply with National Electrical Code (NEC) requirements.
A low profile distribution hub allows up to four separate light bar chains to run from the same 120-volt source. The distribution hub integrates an on/off switch for additional convenience.
MaxLite's lightbars also include an optional mounting clip for directional applications. The patent-applied-for clips install to most mounting surfaces with a wood screw and give installers additional flexibility directing light for display and showcase lighting.
Engineered for high performance with an easy to conceal enclosure, Plug-and-Play LED Lightbars offer an efficacy superior to the CFL and halogen fixtures they are designed to replace. They feature a high lumen output and full architectural-grade diffuser that minimizes glare and delivers even lighting while concealing the LEDs from view. Constructed with a high-quality finish and overall dimensions of less than one square inch, the lightbars ensure a sleek appearance in all applications. When linked together, the luminaires achieve unbroken beams of illumination that enhance decor and meet functional needs.
Dimmable down to 15 percent, the lightbars are engineered with an integral, low-voltage driver that maximizes energy efficiency without sacrificing light output. They have a long-lasting 50,000-hour life and are designed to operate with reduced heat, lowering maintenance and HVAC costs over their lifetime.
Awards
Product Innovation Award 2013
Pricing
Please contact a MaxLite representative
Notes
MaxLite's LED Lightbars were recently featured on DIY Network's Bath Crashers (Episode 404 Basement Bathroom Overhaul). MaxLite's LED Lightbars were discreetly installed in three handmade light boxes on the bathroom wall and in a countertop vanity.rnrnOther features and benefits include:rnrnEnvironmentally friendlyrnRoHS compliant and operates without emitting IR or UV radiation, and with reduced heat that reduces HVAC costsrn rnFull architectural-grade integrated diffuserrnFull architectural-grade integrated diffuser optimizes light, reduces glare, and conceals LEDs from view, while delivering even and consistent lightrn rnHigh quality extruded aluminum constructionrnHigh quality extruded aluminum fixture has a durable powder-coated finish that ensures a sleek appearancern rn50,000-hour lifern50,000-hour life is more than 17 years operating 8 hours a day, based on L70 standardsrnrnUniform color consistencyrnEngineered with proprietary binned LM-80-rated LEDs that provide uniform color consistencyrn rnMultiple assembly configurationsrnAssembly configurations include hardwire connector box, plug-in cord, bar-to-bar connector and four-inch corner joiner cablern rnDimmable down to 15 percentrnFor a list of compatible controls, please review product data sheet in specifications and downloads.rn rnIntegral built-in LED driverrnIntegral built-in LED driver plugs right into existing 120V electrical systems using a grounded three-wire constructionrn
MaxLite has 25 years of experience providing energy-efficient lighting products to the commercial building, residential and OEM markets. A five-time ENERGY STAR® Partner of the Year, MaxLite offers an extensive line of certified LED indoor and outdoor lamps and luminaires, supported by the highest standards of quality assurance and customer service.We work with our customers to ensure our products meet the needs of their installation by providing a full range of complimentary services, including: • Facility audits • Lighting layouts • ROI calculations • Utility rebate assistance • Local representation • Lifetime product support. We keep our products in stock and available for immediate purchase and delivery, shipping within the United States in one to three business days on standard orders. For more information, visit MaxLite.com, call 800-555-5629, email info@maxlite.com, or follow us on LinkedIn, Facebook and Twitter.