S222 Semi-recessed LED Wall Washer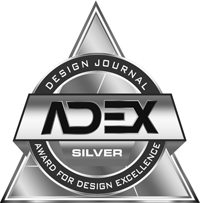 2014
The S222 uses patented refractive optics to create an asymmetric distribution ideal for illuminating surfaces evenly using 83% less energy than comparible tungten halogenwall washers.IC-rated, the S222's shallow recessed depth depth (2-3/8") fits easily under mechanical ducts. Installs easily into sheet rock ceilings with stainless steel spring clips or into grid ceilings using universal mounting brackets and the top access plate allows for quick wiring.
Sustainability
The Lighting Quotient is the only luminaire manufacturer with Cradle-to-Cradle certifeid product. We offer 19 families that are C2C certifeid at teh Silver level. Unlike some LED lumiaires that are disposed of at the end of life, all of our LED luminaires have serviceable drivers and light engines for easy replacement or upgrade. All poweder coat painted surfaces are VOC free.
Awards
IES Progress Report
Pricing
Pricing only through distributors
Notes
Teh S222 is available in 2700, 3000 and 4000K correlated color temperatures. The 3000K version was tested by the ITL Boulder (NVLAP LAB CODE:200925-0). Teh luminare delivers 729 lumnes at 16.3 watts (44.7 lumens per watt). The color rendering index is 86 with an R9 value of 31. The ANSI C78.377-2008 Duv is 0.000 (distance from black body curve charaterizing white light). The S222 is CSA certified Type IC (rated for use in insulated ceilings) per UL1598, UL8750 and CSA 22.2.
Founded in 1977, The Lighting Quotient descends from the former lighting design firm of Sylvan R. Shemitz Associates. The company, based in West Haven, CT manufactures all of its products in the USA and is certified by the Women\'s Business Enterprise and the DOD\'s Woman-Owned Small Business Program.The companys two divisions-elliptipar® and tambient® - use precise engineering to create design-foward, energy-sensible solutions that balance optical performance with elegant artistic design. From simple utilitarian structures to grand architectural masterpieces, The Lighting Quotient provides solutions for asymmetric and task ambient lighting.