Philips Ledalite BoldPlay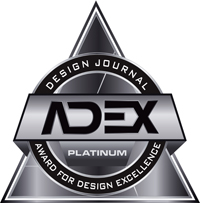 2014
With fully integrated 0-10V controls, Response Daylight Harvesting sensors and Airwave Wireless Controls Boldplay is perfect for a variety of needs. It also allows for easy on-site customization of light levels with variable optics kits in two distributions (20% up/80% down and 0% up/100% down) and comes in LED suspended options include three color temperatures (4000K, 3500K, 3000K) and two lumen packages (3400 lumens, 4800 lumens).
Sustainability
BoldPlay delivers serious energy savings. Its direct indirect distribution allows for ultra wide row spacing resulting in energy densities far exceeding any standard. In open plan areas, row spacing can be pushed to 20'o.c., with energy densities as low as 0.45W/ft2, while delivering 106 lm/W and maintaining perfect light levels for excellent ceiling and work plane uniformity.

Designers can apply the guidelines from the Optimize Energy Performance category and earn up to 19 LEED points for energy savings up to 60% with BoldPlay. Certified to UL, IES & CSA Standards, IC Rated, RoHS.
Awards
• Most Innovative Product of the Year – LightFair (2013)
• Best in Category (Commercial Indoor) – LightFair (2013)
• Product Innovation Awards – Architectural Products (2013)
• 2013 IES Progress Report inclusion
Pricing
The price is very comparable to fluorescent linear products with dimming.
Notes
BoldPlay's brilliant design and engineering fearlessly combine to deliver unprecedented performance, embodying the full potential of MesoOptics and light guide technology. BoldPlay's lean construction is comprised of edge-lit high-powered LEDs, which emit directly into the light guide panel. As it is coupled and transmitted through total internal reflection, the laser etched surface of the panel allows light to emerge into a wide indirect distribution, making BoldPlay a great choice for close-to-ceiling applications. An ideal batwing distribution is created in the lower hemisphere as light passes through MesoOptics film, which removes striations, homogenizes color, and controls high angle glare.

BoldPlay's striking contrast of effortless style and urban edginess make a distinct statement in any space. Its sculpted contours, sleek high gloss, and minimalist form are the confident choices that help it transform ordinary spaces. Where accurate color rendition is critical, BoldPlay offers a palette of color temperatures that render true, natural and vibrant. When additional downlight is required, optional field-installable variable optics help achieve the necessary distribution.
In addition to the range of aesthetic possibilities, BoldPlay offers other flexible options from a variety of LED color temperatures, to distribution choices and a complementary wall mount version.
Established in 1982, Ledalite is a Lean-certified manufacturer that adheres to World Class Manufacturing (WCM) principles in our 210,000 square foot North American facility.We listen, then we design.Our reputation as an innovator in lighting is built upon maintaining close relationships to the design community to provide valuable insights, which in turn drives our heavy investment in R&D. Our philosophy is to deliver the highest quality lighting solutions, featuring innovations that push the envelope, and a fit and finish that's unique and inspiring.Design PrincipalsErgonomics in Light is a core value reflected in every product we release. We specialize in creating environments that are designed around how people see. We enhance visual comfort by making every space feel bright and natural. Investing millions of dollars in technologies like MesoOptics, coupled with numerous design awards, is a testament to the fact that when it comes to efficiency, we are always thinking about how we can do better.