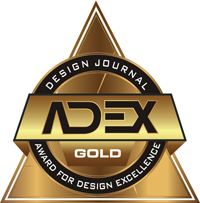 2018


With 24 planks and 10 tiles, the designs span dramatic dark wood tones, rich urban concrete, and unique time-enhanced leather: stunning flooring options for a wide spectrum of contract specifications, designed specifically for retail, hospitality, assisted living, education and corporate spaces.
Design innovations include larger plank and tile formats that feature the latest in-register-embossing techniques for a more authentic look, with fast, easy DropLock 100 installation for more expansive spaces.

The range has been developed with a pioneering new technology called ISOCORE. ISOCORE is an extruded, closed-cell PVC structural core that delivers rigidity and strength to ASPECTA TEN while making larger formats easier to install through the new DropLock 100 locking technology. This unique LVT composite results in a floating floor that is 100% waterproof and provides sound insulating characteristics through its pre-attached acoustical underlayment.

PLANKS:
Brindle Oak is a time-worn, weathered wood. Its soft grain and subtle colors give any room a feeling of instant comfort and familiarity, creating a warm, welcoming mood that can unify a space without over powering it. Large plank format: 8.66" x 59.45", In-register embossing.
Tally Oak, with its refined, multi-layered stain and hand-rubbed oak, lends an understated elegance to any space. The distinctive grain scale and eye-catching figuring carries through all seven colors, offering a full complement of choices. Large plank format: 8.66" x 59.45", In-register embossing.
Tanley Hall design harnesses the character of reclaimed wood in a sophisticated, unfussy style. Strong cathedral figuring along each plank combines with a hint of the "crossfire" effect you'd see in a rift cut library panel to give it real personality. Large plank format: 8.66" x 59.45", In-register embossing.
Runyon Oak -- the most dramatic in character – presents an authentically raw ranch look is suitable for everywhere from chic boutique hotels to bistros. Like a favorite denim jacket, it matches any look, particularly with the range of Grey neutrals available. Large plank format: 8.66" x 59.45", In-register embossing.
Crescent Oak -- For those who like to think bigger, Metroflor extended the collection with ASPECTA® TEN XXL planks. Broader and longer at 8.66" x 71.61", they promise fast, easy DropLock 100 installation for more expansive spaces, while being surprisingly light and strong. ASPECTA TEN XXL offers a perfect canvas for the sophisticated grains and colors of our Crescent Oak design with planks closer in size to real wood. The authentic look with in-register embossing is ideally suited to hotels, restaurants and retail environments.

TILES
With a deceptively rich concrete detail, Urban Grid can enhance many design approaches, offering a versatile, contemporary dimension. The scale of this concrete patterning and the color range provide a very expansive offer. 17.64" x 35.67", Honed Stone embossing.
Fulton Hyde delivers a strikingly unique leather patina in two rich tones. Intricate rivulets of wear cracks tell the story of age worn proudly, a well-loved item whose comfortable folds and blemishes are only enhanced by time. 17.64" x 35.67", Calf Skin embossing.
A clean abstracted stone, Corneto draws inspiration from a metal so wonderfully corroded by the decades that, once translated into a design, feels so organic it's hard to believe its origins are not in nature.17.64" x 35.67", Coral embossing.

For further information visit www.aspectaflooring.com. Follow us on Twitter @Aspectaflooring

Sustainability
The company has fully committed to transparency in the resilient flooring industry and is the very first to issue a Declare label, analogous to nutrition labels for building products, for rigid core flooring. This first-ever rigid core Declare label is for Metroflor's Aspecta® Ten, a multi-layer flooring product that features the company's proprietary ISOCORE Technology®.

This new label adds to Metroflor's existing portfolio of Declare labels for the entire ASPECTA commercial range – over 200 patterns in total across the three collections.

Additionally, the company has issued Health Product Declarations (HPDs) for its full line of Aspecta products. HPDs are comprehensive transparency documents that provide health-related information for product ingredients. Declare labels and HPDs are recognized by the USGBC for credit under LEEDv4 and can also contribute towards credits under the WELL Building Standard.
Awards
Product Innovations Award
ADEX Award
Nightingale Award
Notes
Unique attributes to this pioneering Aspecta Ten ISOCORE category of product include:

¥ 100% Waterproof
¥ 28 Mil commercial wear layer – resistant to abrasions, scuffs, chips and indentations
¥ Floor Score Certified
¥ Strong, rigid and dimensionally stable
¥ Installs over existing hard surface floors including ceramic tile
¥ Hides telegraphing from minor subfloor imperfections
¥ Ultra-Fresh Treatment on the surface and integrated within the attached underlayment

Metroflor Corp.
Metroflor Corporation's pioneering past dates back to 1912 when its founders opened a building materials distribution company in upstate New York.  As the company evolved, its focus sharpened around flooring and they became the first to introduce pure, homogeneous vinyl floor tile.  Since then, the company has devoted itself to leading the LVT category with new products, designs and manufacturing methods.  Collectively, Metroflor's brands represent the largest assortment of quality LVT in the industry today. As the LVT specialists, Metroflor is in constant pursuit of the next innovation.  Our appreciation for style, design and color knows no limits as we search the globe for floors that make a design statement while delivering outstanding performance qualities. LVT is the fastest growing flooring category – and for good reason.  The design options are incredible:  woodgrains with rich color, grain and texture and tiles with the look and feel of natural stone.  Combine that with LVT's other advantages which include durability, easy maintenance and a warmer, softer feel underfoot and you've got a winning combination. The Metroflor family of brands is represented by a world-class network of independent distributors and an expanding network of independent retailers and contractors.  Our products are ideal for any residential setting and are also suitable for commercial applications, including Retail, Healthcare, Assisted Living, Hospitality, Multi-Family, Corporate and Education.  For more information, visit www.metroflorusa.com