Portfolio 2-inch LED Cylinders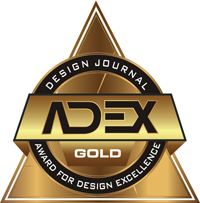 2018
The Portfolio LED cylinders are available in both uplight and downlight or downlight only configurations for interior and exterior needs in hospitality, retail, institutional, healthcare and commercial spaces.
The 2-inch LED cylinders can dim down to one percent. Dimming LED products reduces the light output but doesn't change the color as it does when dimming standard incandescent sources. The D2W technology performs comparably to popular halogen sources, providing clean, crisp light at full power of 3000 Kelvin (K) and dimming smoothly to 1850K, creating a rich, warm glow of light.
The Portfolio 2-inch cylinder family offers a choice of:
• 500, 1000, 1500 or 2000 lumens packages.
• 15-, 25-, 40- or 55-degrees light beam distributions.
• Six color temperatures including 2400K, 2700K, 3000K, 3500K, 4000K and 5000K.
• 80, 90 or 97 CRI options.
• An integral reflector available in nine finishes.
• Matte black, white, bronze and silver paint exterior colors.
The Portfolio 2-inch light-emitting diode cylinders are rated for 50,000 hours at 70 percent lumen maintenance. The products are ENERGY STAR® certified.
Sustainability
Energy Efficient LED Technology
Notes
• ENERGY STAR® qualified. Learn more at energystar.gov
• 80, 90 or 97 CRI
• 2400K, 2700K, 3000K, 3500K, 4000K and 5000K
• D2W option - LED warms from 3000K to 1850K
• Standard 0-10V driver dims to 1%
• Cast or spun aluminum reflectors
• Offered in black, white, bronze and silver paint
• Available with 15, 25, 40 and 55° distributions
• Stem, ceiling surface and wall mount

Eaton
Eaton Lighting delivers an industry-leading portfolio of innovative lighting solutions for connected buildings, homes and communities, including reliable indoor and outdoor smart lighting and control solutions specifically designed to simplify and personalize lighting for consumers, help solve complex business challenges and leverage data insights to meet customers' unique needs. Eaton lighting solutions serve a wide range of customers, including architects, engineers, facility managers, municipal leaders, electrical distributors, and contractors in the commercial, industrial, retail, institutional, residential, utility and other markets. For more information, visit Eaton.com/lighting.