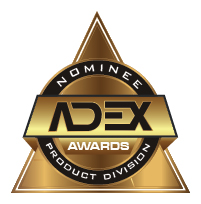 Unexpected Nature's luminescent hues and striking patterns reflect nature's brilliant shades of sea greens, stormy blues, volcanic coppers and mountain range ochres. Landscape inspirations for the collection include the Gunnison River in Colorado's Black Canyon, and The Wave in Arizona's North Coyote Buttes.

Fresh and uncompromising, Unexpected Nature features nine linear and nine marbled designs that push the boundaries of traditional linoleum aesthetics, creating a broad scope of imaginative installation. The linear patterns are about contrast, different ways of coloring, and tones within tones, while the marbled designs combine rich hues, fresh clean pastels, and evenly weighted warm and cool tones.

A truly sustainable flooring choice, Unexpected Nature is made from natural, renewable ingredients and contains 100% bio-based content. The collection's Topshield finish provides occupancy-ready installation, reduced maintenance costs, and improved long-term aesthetics. Unexpected Nature is financially beneficial to LEED projects, and carries the most LCA based certifications of any resilient flooring product.

Forbo Flooring Systems is the global market leader in commercial floor covering solutions. Marmoleum, our flagship brand, owns a global linoleum market share of over 60%, while Flotex dominates the rapidly growing flocked flooring market with over 90% global market share. In addition to linoleum-based products, Forbo develops, manufactures and markets a diversity of high quality vinyl and textile floor coverings and Coral & Nuway entrance system solutions. Forbo also offers a full range of professional service products. All Forbo products combine high levels of functionality and durability. Forbo Flooring Systems is committed to environmentally responsible production, sustainable practices throughout its global operations, and to far-reaching customer service. Please visit our website for more information: www.forboflooringNA.com.

For further information:
Forbo Flooring Systems
P.O. Box 667, Hazleton, PA 18202
1-800-842-7839
info.na@forbo.com
www.forboflooringNA.com

With a strong focus on innovation, Forbo Flooring inspires customers to create better interior environments. Forbo has been recognized as the leader in providing color and design options with our Marmoleum flooring. Naturally occurring anti-static properties make Marmoleum easy to clean, while naturally occurring antimicrobial properties stop the breeding of many micro-organisms such as allergen producing dust mites, and the MRSA strains of bacteria. These features, combined with simple, low cost maintenance and unmatched durability make Marmoleum an ideal choice for the indoor environment.Forbo Flooring is also committed to protecting the natural environment and investing in a sustainable future by constantly seeking to create more environmentally friendly products and processes. When it comes to an environmentally friendly product, Marmoleum is an outstanding choice. Not only is it made from readily renewable natural ingredients, but also, every element of the process, from how we obtain the natural raw materials, to how we produce the product (in ISO-14000 certified facilities), to how we recommend installation and maintenance procedures and products is conducted with the environment as a key priority. Forbo creates an environment that empowers, motivates and develops its employees to be the most knowledgeable, skilled and dedicated in the industry. Forbo Flooring is the world leader in linoleum. Our financial strength, long history of consistent commitment to our product (over 150 years) and continual reinvestment in this, our core product, make us a reliable manufacturer to deal with.