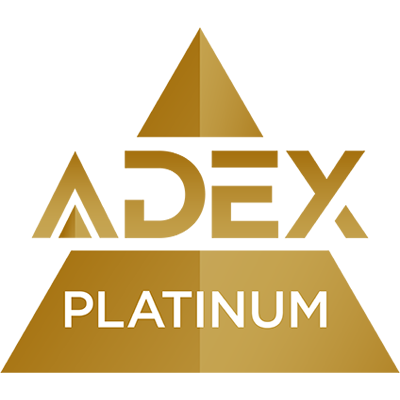 2003
HappyEyes ® Clamp Lamp Daylight spectrum healthy lighting for all the benefits of sunshine in the convenience of a clamp lamp. Flexible gooseneck for complete versatility. Cool-running, flicker-free operation.
Awards
Verilux®, Inc., The Healthy Lighting Company™, won the 2001 ADEX Silver Award for their HappyEyes Desk Lamp. Verilux won the silver for its innovative combination of light quality and lamp design. The HappyEyes Desk Lamp uses a Natural Daylight Spectrum Compact Fluorescent Bulb. The bulb brings the benefits of daylight indoors for glare-free lighting that reduces eyestrain, provides sharp visibility for close tasks and show truer colors like natural sunlight does. This energy efficient lamp emits light as bright as a 150 watt incandescent while using only 27 watts of energy. It lasts five times longer than ordinary light bulbs, saving money and energy.Verilux®, The Healthy Lighting Company™ was awarded a Gold Connecticut Quality Improvement Award Innovation Prize (CIP) from the Connecticut Quality Improvement Award (CQIA) Partnership Inc. The award recognizes the innovative HappyEyes lamp design and successful marketing of the complete line of HappyEyes fixtures. CQIA Inc. utilizes the Malcolm Baldrige National Quality Award for Performance Excellence criteria in determining winners in three levels of prizes. CQIA has been the State's quality award program since 1997, recognizing recipients annually. The CQIA Innovation Prize recognizes accomplishments during the first stages of the quality journey for all organizations located in Connecticut.
Pricing
The Verilux® HappyEyes® Clamp Lamp has a suggested retail price of $99.95.
Notes
The Verilux® HappyEyes® Clamp Lamp is available now.
For over fifty years Verilux, Inc. has specialized in naturally balanced, visually efficient indoor lighting solutions for better living, health and well-being. A leader in healthy lighting technology, Verilux remains committed to developing lighting products that promote lifelong healthy vision and help people maximize their vision potential at all stages in life.Lighting is one of the most overlooked aspects of the home and work environment even though it is a simple, cost effective and immediate way to improve comfort and health. Verilux carefully considers two essential elements, balanced light and properly directed light, when designing task lighting fixtures. Dr. Sam Berman, former Senior Scientist, Lawrence Berkeley Laboratory, Group Leader, Lighting Research Group, has published extensive research on the relationship between visual performance and the light spectrum. Verilux technology is based on this scientific data, seeking to improve visual performance by achieving a balanced light spectrum.To meet the specific light requirements of the human eye Verilux applies a unique coating of rare earth phosphors to the inside of every Verilux light bulb. This acts as a filter, allowing the right amount of light from each part of the light spectrum to pass through the bulb, resulting in balanced light that closely simulates sunlight. In comparison, ordinary incandescent or fluorescent bulbs produce too much of the yellow part of the light spectrum.Our durable, sturdy products are designed to meet the needs of a range of users. We focus on quality products and innovative designs that meet customer needs for affordability and usability. Accessibility is considered in all our designs to ensure that those with mobility challenges find our fixtures easy to manipulate. Verilux products all undergo a rigorous testing regimen to ensure each fixture meets our strict quality standards. We are continually expanding and improving our products to meet changing needs in the home and workplace while educating consumers about the importance of visually efficient lighting for all stages of life.Verilux's Original Series lamps have been approved by Lighthouse International for use by people who are visually impaired. Helen Keller Services for the Blind recognizes Verilux lighting as far superior to other specialized lighting in regards to glare reduction. Verilux fixtures are also recognized by the National Association for the Visually Handicapped (NAVH) as a tool for low vision.Many companies have found Verilux is the solution to their lighting challenges. Lucasfilm uses Verilux lighting in their film archives while Walt Disney Company uses Verilux in their costume storage areas. In order to replicate their natural habitat as closely as possible, the Bronx Zoo is using Verilux lighting in the reptile house and the Shed Aquarium in Chicago has purchased Verilux lighting for similar reasons.Verilux bulbs and fixtures are available at www.verilux.com or by calling 1-800-786-6850.