Philips OneSpace luminous ceiling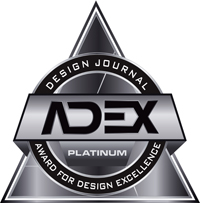 2015
Sustainability
The Philips OneSpace luminous ceiling is based on a mesh pattern of white LEDs illuminating a high reflective layer which results in a homogeneous spread of light.
The total solution has a fire class A2-s1-d0 rating, according to EN13501.

Looking at the material use, the panels are mainly made out of aluminum, glass fiber textile, acoustic tiles which all can be recycled. The e-cabinet is mainly steel and electronic components. The system is low voltage using certified LED drivers.

Power consumption: input power setting can range from approx. 10w/m² to 38w/m².
Due to the size of the OneSpace luminous ceiling panels, in many cases there is no need for another ceiling, which reduces the use of other construction materials.

The integration of Philips OneSpace luminous ceiling with a building management system adds additional functionality to it, such as presence detection, dimming (DALI compatible), central switching on/off and time-schedule which could be energy saving.

Awards
Winner of the European Aluminium Award 2014. http://www.aluminium-award.eu/2014/news/winners-of-the-european-aluminium-award-2014
Pricing
Philips OneSpace luminous ceiling is a unique proposition for architects to de-clutter ceilings, by minimizing the number of fixtures, objects and add-ons creating a cleaner look and a bolder design statement. The price depends on the dimension (made to measure), mounting and execution of the project. Higher end pricing.
Notes
With Philips OneSpace luminous ceiling architects have more freedom to express their vision and move from the "grid" to a custom made solution. OneSpace is a different approach to how light can be used in architecture. It is a lighting system that can be used as a building component instead of being an add-on in space. The ceiling is not often seen as a design element. Now it is transformed into a design statement by this minimalistic ultra-thin panel of light.


URL's:http://www.largeluminoussurfaces.com/onespace
http://www.lighting.philips.com/main/products/one-luminous-space

Signify
Philips Lighting is dedicated to enhancing life with light. We are committed to introducing transformative technologies that enhance our customers' health and well-being. Philips Lighting is leading the technology revolution with innovation across the digital lighting value chain. Our wide range of offerings, whether it be components or light sources, luminaires and controls, or total lighting solutions and services, customers can trust Philips to deliver innovation that is as impactful as it is progressive.