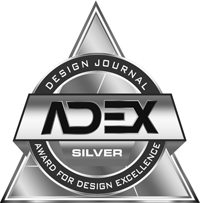 2007
Pricing
Please contact Kova for a representative in your area.
Notes
Designed by Libby Kowalski
Kova Textiles
KOVA Textiles is the result of a continued collaboration between textile designer, Libby Kowalski, and designer/builder, Greg Kowalski. KOVA Textiles continues to hold the interest of the architectural and design community with innovative choices for window shade and panel track applications. This fabric passes the NFPA 701 drapery test for flammability. KOVA's product line also includes new patterns in their translucent panel offerings which encapsulate both fabrics from the Krystal Weave SatinFR Collection as well as other interesting KOVA textiles. KOVA Textiles' new fabrics and panels form a very interesting group of patterns which can be used for many different window and architectural applications. KOVA's main focus has been to present the architectural and design community with innovative choices for window coverings in shade and panel track applications. When light passes through a KOVA fabric, it dissolves into a diaphanous surface - sheer, yet not transparent - translucent, but not opaque. These textiles work well as wall hangings, room dividers or in any application where light, either natural or artificial, can pass through the fabric. KOVA provides excellent service for custom projects, design fabrications, shade and panel track creation. The company is committed to developing and manufacturing all products in the United States --- because it matters. KOVA's fabrics and translucent panels are distributed by independent representatives throughout the world. For more information, please call 212-254-7591.