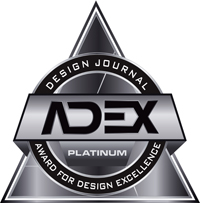 2015
Sustainability
Moxie is a direct print on a lightweight aluminum composite panel, protected by a UV, chemical & scratch resistant overlay that preserves color and extends lifetime. Indoors Moxie will last about 30 years. Moxie has a class A fire rating.
Awards
2014 NeoCon Gold Award
2014 Nightingale Gold Award

Pricing
Pricing dependent on mounting options selected and size of panels.
Notes
Please view our digital catalog by clicking on the link.http://takeform.net/file_download.php?f_id=181
Takeform
Branding Space. Moving people.

The synergy between your brand and space has inspired us since we introduced our first industry innovation in 2003. Today, our design DNA continually drives us to push the boundaries of your brand's potential in the built environment.

We'll help you make a lasting impression. Start with wayfinding – our practitioners will help you greet each visitor and guide them to their destination in a visual voice uniquely yours – welcoming and on brand. Once there, immerse them in a sophisticated visual experience of who you are. You'll start the conversation and foster a relationship before the first handshake and every moment after.

Our people, process and products are focused on enabling you to tell your brand story – eloquently and effortlessly. From design and manufacturing through installation and ownership services – we are fully integrated to assure you a streamline process and optimal outcome.

We believe unifying brand and space has the power to move people.