HL-970 Enlite Architectural Sconce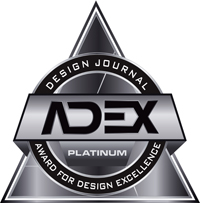 2018
The Enlite Sconce is dimmable and designed to be ultra-efficient with an efficacy of 105 lumens per watt with 90 CRI / 3000CCT while consuming only 4.3 watts. These fixtures are available with a Clear Lens (450 Lumens) or a White Opal Lens (275 Lumens) with a rated system life of 50,000 hours and a 65 IP rating.
The Enlite series is machined from 6061 T6 aluminum and available in our standard finish colors (Bronze, Black, White, Anodized Aluminum, coated aluminum) or custom finishes are also available. The mounting plate attaches to a standard 4" Octagonal or Square junction box with drywall ring.
Sustainability
Ultra-efficient 4.5W LED.
Rated life of 50,000 hours.
Hevi Lite, Inc.
Hevi Lite is located in the sunny, warm heart of San Fernando Valley in California. It is here that we develop, design and manufacture quality fixtures for lighting specifiers and architects. This is where we take concept to end product. Solid aluminum, brass and stainless billet are machined, formed, and assembled by experienced craftsmen in our factory.

Our products are born in California and shipped across the globe. Smart designers choose Hevi Lite to fit with almost any architectural style, from American Craftsman to Post Modern. Hevi Lite fixtures will blend and fit unobtrusively onto buildings and landscapes, yet when studied closely you will find that our products are beautifully designed to stand on their own.

Hold a Hevi Lite fixture in your hand and you will see the care and detail that is put into each product. You will also feel the fit, finish and durability of Hevi Lite. Our fixtures are made to last, to take a beating in the harshest environments. At Hevi Lite we take pride in our design and quality. Your continued feedback and support is well appreciated.


Hevi Lite is Made in California