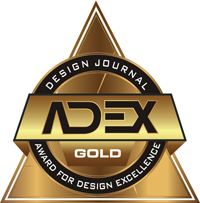 2015

- colored acrylic
- faux wood veneer
- laminated fabric
- custom-printed images
- faux stone acrylic
- specialty polymer sheets from vendors such as Lumicor
- aluminum metal patterned materials from Moz Design
Sconces can be created to match surfacing materials used in column wraps or wall coverings.
Sustainability
This fixture can use LED light source, using a fraction of the energy of incandescents.
Fire Farm, Inc.
Fire Farm manufactures unique accent lighting for residential and commercial applications. We explore new and unusual materials in our development of award-winning new designs. We offer a complete product line of diverse Table, Floor, Pendant, Chandelier, Sconce and Flush-mount lamps. Additionally we welcome custom fabrication projects of any size. We take pride in the fact that the majority of our products are manufactured in the United States at our factory which allows us to maintain a high level of quality and customer support. It also means we are ready and willing to entertain custom modifications to existing designs or fabricate large-scale custom projects for you. Please send us your sketches and we will engineer and quote it for you. Fire Farm aims to provide innovative, high-design products at a value price. In addition to our domestic fabrication we offer an overseas design and import program to meet all of your price point and deadline requirements for low or high volume projects, residential, contract or hospitality. Call us to help you develop something truly unique for your next project. We are passionate about light and we love the work we do. You'll find us experienced and very easy to work with. Let us fill your lighting desires. Fire Farm Experience the Light