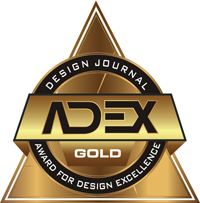 2013

Port Washington, New York--- Marvel at Neo, this ultra-thin sconce and vanity light collection, which adapts the latest screen technology from the television and display industry, to create phenomenal light output. The amazing uniform light is free from glare, hot spots and color-over-angle changes. Place above or alongside a mirror for a modern geometric display of two-dimensional rectilinear forms. Create a dramatic display of wall art with an arrangement of these modular units.

The cornerstone to Modern Forms' technology story, Neo is among the brightest luminaires in the entire line and incorporates an edge lit structure with heavy extruded aluminum frames that act as a heat sink. Light extraction optic film is placed behind the glass to evenly distribute the light.
Note that the entire luminaire is 7/8-inch thick with a 3/8-inch reveal permitting a recessed look when mounted end to end with mirrors. Neo can be mounted vertically or horizontally. With a low profile design, Neo is ADA compliant and can be dimmed to meet user preferences and priced for everyday saleability.
Neo's cutting edge design complements a diverse array of architectural interiors while delivering high quality, functional illumination for luxury homes, hotels and commercial spaces.
Utilizing proprietary energy efficient LED technology, MODERN FORMS luminaires feature LED modules engineered to deliver superlative consistent light quality, lumen output and a high color rendering index (CRI). State of the art components, including replacement LED modules and drivers, are manufactured in miniature sizes to create a multitude of new possible designs.
For more information, contact MODERN FORMS. A WAC Lighting Company. Tel. 1.800.526.2588 Website: www.MODERNFORMS.com.
Corporate headquarters is located in Port Washington, New York, with factories in New York and Ontario, California.

WAC Lighting

WAC Lighting is a global, future forward designer and innovative fabricator of solid state luminaires, electronics and lighting technologies for Luxury Residential, Commercial, Hospitality, Institutional, Retail and Architectural applications, specializing in track, recessed, under cabinet, monorail and decorative lighting.
WAC has developed a stellar reputation for upscale decorative and task lighting lines backed by an extraordinary level of service, an unprecedented shipping record, and a Five Year Product Warranty. To reflect Green energy saving strategies, social progress and community involvement, WAC uses the brand standard "Responsible Lighting" that reflects the company's holistic approach to business, encompassing a deep commitment to responsible eco-friendly manufacturing, extensive research/development, energy saving technology, and altruism.
WAC offers a broad range of award-winning products: LED and Low/Line Voltage Track and Rail Systems; LED Low/Line Voltage Recessed Downlights; InvisiLED®, LED tape systems for indoor and outdoor applications; Artisanal Glass Pendants and Wall Sconces; Display Lighting; LEDme® Step and Wall Lights; and SMART Transformers. Nearly 90% of WAC Lighting products are fabricated, to a component level, within its wholly owned zero-landfill manufacturing campus in China.
WAC Lighting Global Headquarters and Eastern Distribution Center is located in Port Washington, New York with Western Offices and Distribution Center in City of Industry, California. WAC may be reached at 1.800.526.2588 or by visiting www.waclighting.com.