L'ale Interior Sconce, The Lutron Ivalo Collection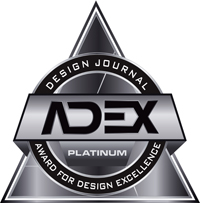 2013

between windows/elevators. It is now available with a warmer, 2700K LED color temperature, offering the warm glow of an incandescent lamp, with the energy savings of an LED. It works with Lutron Hi-Lume® A series driver and compatible controls. Available in a variety of colors and finishes.

Pricing
$1,440 base price
Notes
• Length: 27 in
• Light orientation: direct/indirect
• Lamp: dimmable and non-dimmable warm or neutral white LED
Lutron Electronics Company Inc.
Lutron Electronics Co., Inc. is the world's leading designer and manufacturer of lighting controls, architectural lighting control systems and shading solutions for residential, commercial and institutional applications. Lutron offers more than 10,000 products to satisfy virtually any residential or commercial lighting control need. With the recent introduction of Sivoia QEDâ"¢, an award-winning line of controllable window shades, Lutron provides complete solutions for controlling both natural daylight and electric light. Lutron's lighting and shading control systems can be found in some of the most recognized buildings and structures across the globe. At the touch of a button, Lutron lighting control products can transform any room into an elegant and functional experience. Lutron products provide a green solution for complying with building codes and guidelines. For more information, visit us at www.lutron.com. Lutron Electronics Co., Inc. 7200 Suter Road Coopersburg, PA 18036-1299 Phone: (877) 258-8766 Website: www.lutron.com