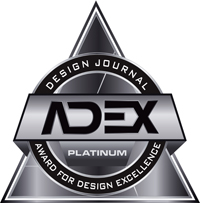 2015
Sustainability
Material is 3form's Varia Ecoresin collection which is 40% post consumer recycled material.
Awards
This is launching at HD/ICFF.
Pricing
$350 per lineal foot
Notes
Product designed and created by LightArt, a division of 3form.
Established in Salt Lake City in 1991, 3form provides a forward-thinking approach to the use of its materials within various architectural systems - ranging from wall treatments to complex decorative shapes. In challenging both material limits and traditional spatial concepts, 3form Architectural provides breakthrough architectural solutions and services for fabricating architects' most challenging installations. The innovative 3form varia™ system uses ecoresin™— a 40% post-industrial recaptured material, which encapsulates a multitude of dynamic interlayers, using founder Ray Goodson's patented technology. 3form also offers strata™, a multi-layered designer series; struttura™, a prismatic structural system of paneling; as well as a European-designed modern furniture collection. 3form truly offers material solutions.