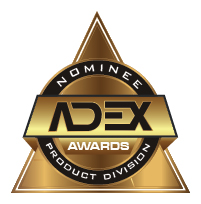 2017-18
Sustainability
The Outskirts products are Cradle to Cradle Certified™, NSF® 140 certified and CRI Green Label Plus certified, and produced in a LEED®-EBOM Gold-certified manufacturing facility.
Awards
Silver in Contract's Best of NeoCon Broadloom Category
BUILDING's Product Innovations Merit Distinction
Interior Design HiP Product Finalist
Pricing
$25.00 (mid-$20s)
Notes
Comprised of two broadloom styles, The Outskirts Collection reveals rich, textural patterns with a range of colorways that span from luxurious, edgy neutrals to vibrant, playful hues. They blur the soft look and feel of natural materials with the rugged performance of commercial carpet.
Bentley's twist on organic botanicals, Ritual has the aesthetic of textured high-end wool. Broken lines resemble branches, carved from tip-sheared peaks and valleys and given life with soft yet brilliant washes of color. Coexist lives up to its name, purposefully designed to mix and mingle with other styles – inside and out of The Outskirts line. With no specific linear direction, its all-over visual is a subtle, beautiful expression of color and pattern – a designer's dream.
Featuring the latest in pattern tufting technology, all three styles are made with Antron® Lumena™ Type 6,6 Solution-Dyed Nylon for ultimate color and performance. Outlier is available in NexStep® Cushion Tile and AFIRMA™ Hardback Tile in 24-inch by 24-inch and 18-inch by 36-inch. Ritual and Coexist are available in NexStep® Cushion Tile and AFIRMA™ Hardback Tile in 24-inch by 24-inch, 9-inch by 36-inch and 18-inch by 36-inch, and High PerformancePC Broadloom.
Bentley Mills
For more than 30 years, Bentley Mills, Inc. has defined design, color, quality, and customer service in the commercial carpet industry. Our California-based brand manufactures and markets award-winning broadloom, carpet tile, and area rug products for interiors across the globe.