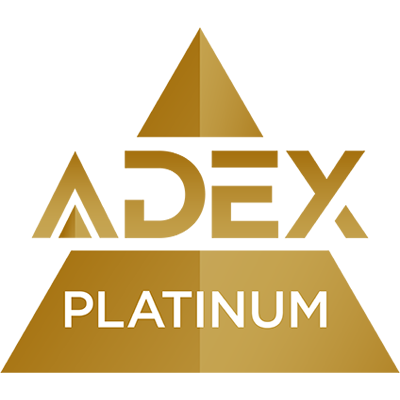 Dekton by Cosentino, the ultra-compact surface with advanced technical properties for both interior and exterior application, introduces its XGLOSS Series—four new luxurious high-gloss colors touting the highest reflectivity with durability only Dekton can offer. XGLOSS meets the interior design industry's growing demand for all things lacquered and reflective. Cosentino continued its innovation with the breakthrough of a nanotechnology treatment that creates an extraordinarily luxurious, shiny finish on these new Dekton colors. The newly developed Nanocoating Process creates a crystalline shine that not only enhances the XGLOSS Series colors but maintains the material's resistance to scratches, stains, UV rays and temperature shock.
Pricing
Pricing of Dekton is per-square-foot and depends on color & thickness.
Notes
*Halo: Its soft white hue married with a high-gloss finish makes Halo an instant classic—fitting traditional aesthetics and sleek, modern spaces alike.*Blaze: Evocative of a dark-polished mirror in gunmetal gray, the highly reflective nature of the material brings instant luxe and brilliance to its applications.*Splendor: To meet designer and consumer demand for a subtle grey, Splendor offers a modern take on a classic hue with its lacquered look.*Lumina: Highly saturated, Lumina is a warm taupe that brings an earthy hue juxtaposed with unmatched radiance and reflectivity to a space's color palette.Dekton is made using a proprietary process called Particle Sintering Technology (PST), an accelerated four-hour version of the change that rocks and stone undergo in nature when subjected to heat and pressure over thousands of years. The result: an ultra-compact surface with superior technical characteristics, including resistance to UV, scratches, stains, thermal shock, and very low water absorption. Its resistance to thermal shock against heat, frost and thawing allows Dekton to be used in any climate, offering potential for seamless design from indoor to outdoor spaces. Such unique characteristics and durability make Dekton ideal for an array of surface applications, including countertops, vanities, shower walls, flooring, decking, building facades, and many other architectural surfaces.
Cosentino is the largest distributor of natural quartz surfaces in the world, giving Cosentino North America access to the largest inventory of color selection and product availability. Cosentino's business covers the entire process of producing natural stone products, including quarrying, extracting, fabricating and installing. Cosentino provides innovative stone solutions beyond the ordinary, including quartz, marble, soapstone and architectural designs. The flagship product is Silestone natural quartz. Since its inception, more than 70 years ago in Almeria, Spain, Cosentino has been relentlessly committed to the environment. Cosentino respects the environment in all stages of production, from extraction through fabrication and distribution to installation. Cosentino activates its dedication to sustainability through worldwide efforts to minimize dust emissions, optimize water usage, utilize modern settlings and filtration systems and pursue quarry restoration. Cosentino's dedication to sustainability goes beyond its commitment to comply with environmental regulations by focusing on continually improving its processes and products using the Quality and Environmental Management Systems tool. Specifically, Cosentino is committed to: Conserving resources and promoting energy efficiency, Reducing and preventing any negative impact to the environment. Developing educational employee programs regarding environmental protection Silestone is certified by GREENGUARD Environmental Institute for low-to-no off-gassing into indoor air during their product lifetime. In addition, building teams can now earn up to a total of four points toward LEED certification from the U.S. Green Building Council for a building project that utilizes the Stellar Series and select Silestone products. Builders can earn a total of four points for installation of certain Silestone countertop materials that contain post consumer recycled content. Silestone Coffee Brown, Absolute Green and the six colors in the Stellar Series contain 35 percent post consumer recycled glass content, while Silestone "Dali" is composed of more than 70 percent post-consumer recycled glass. Additionally, points are earned due to the fact that Silestone countertops are fabricated regionally within 500 miles of a project. The final point can be earned when Silestone installers use DAP caulk with Microban® antimicrobial product protection, a low-emitting adhesive and sealant for countertop installations. Cosentino®, a global natural stone manufacturer, began harvesting precious stones from the finest quarries in Europe close to a century ago. The Spanish company currently distributes material in more than 80 countries. With 11 manufacturing lines, Cosentino is the largest manufacturer of natural quartz surfaces in the world. The Cosentino North America family of brands includes Silestone natural quartz with built-in Microban® protection; SenSa® granite with SenGuard®; Scalea natural stone, including marble, travertine and soapstone; Marlique(tm) Marble; and MURO(tm) pre-meshed tiles made with recycled Silestone. For more information regarding Cosentino, visit www.cosentinonorthamerica.com.