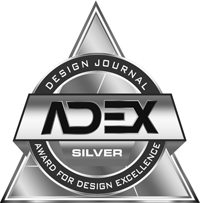 2017
From a functionality and technology standpoint, Selene offers a two-function spray head (spray and stream) that operates at a water efficient rate of 1.75 gallons per minute. One the of product's standout features is the new proprietary, patented magnetic docking technology. This advancement keeps the spray head consistently tight to the spout. Users can literally feel the pull of the head as it locks itself back into the docking position.
Paired with the popular SnapBack™ retraction system, this magnetic docking option provides one of the best combinations on the market – a unique retraction system that pulls the spray head up into the spout and magnetic docking technology that keeps it snug in place with a secure hold.
"We wanted to bring homeowners, designers, builders and other professionals another transitional design option," says Katie Hayes, senior product manager for Danze. "The styling is simply beautiful and versatile within most any environment. That design coupled with the new magnetic docking system and other quality componentry makes Selene a unique choice for those looking to upgrade their kitchen."
Selene is available in Chrome and Stainless Steel finishes. For more information on this faucet or the entire Danze Collection, visit www.danze.com.
Sustainability
Operates at a water-efficient 1.75 gallons per minute.