Muse Collection | Textura Finish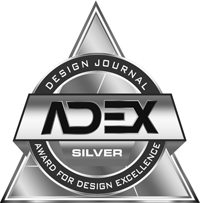 2018
salt air. Look out over the horizon and see the water sparkle. It's one of those perfect
days at the beach, not too crowded, but busy enough to pique your interest. As you
scan the beach you lock eyes with the most gorgeous person you have ever seen and
flash a smile before looking away. You boldly collude with your friends playing Frisbee
to throw the next one a little further, a little longer; before you know it, you are running,
sprinting, and successfully falling over the person you locked eyes with. You both
spend a few minutes laughing, dusting off the sand and soon hours have passed and
you are now walking down a sunset painted shoreline, hand in hand, hoping the day
will never end. This is summer love.
Thoughtfully Designed for Form and Function
Textura is the result of over six months of innovation, production and testing by the
senior design team in Carlsbad, California to ensure a finish that delights the senses
both aesthetically and practically. Suitable for wet walking surfaces such as pool
tanning ledges and shower floors, Textura increases the coefficient of friction
expanding the applications of glass tile.
Made with a custom engineering process, Textura is a finish applied to Oceanside
Glasstile's clean edge, cast glass, mosaic line called the Muse Collection. Color
specific glass frit is applied to Muse colors and patterns, then melted and cooled into
the glass mosaics to create a cohesive, textured look. On making Textura, Oceanside
Glasstile Owner and Executive Vice President Johnny Marckx explains: "The crushed
glass is applied at high temperature, fusing the frit into the tile body. This produces a
unique finish that can only be achieved in a hand cast process."
A Dynamic Addition to a Family of Time-tested Products
The color never fades, the integrity does not wane; glass tile designed and
manufactured by Oceanside Glasstile is chosen for the most elaborate residential and
commercial projects around the world to add dynamism and splendor to indoor and
outdoor spaces. Oceanside Glasstile is a 25 year old team of designers, artisans,
installers and glass purveyors passionate about making a positive impact on the world
through design and community engagement.
Textura can be used alongside Oceanside Glasstile's complete line of glass tile
mosaics for kitchen backsplashes, powder rooms, bar backsplashes or feature walls,
but this new finish is designed to help designers push the limits. "I love to see Textura
in contrast to other surfaces like natural stone or smooth metal. The mixing of finishes
really enhances and compliments different materials. I hope designers will explore how
Textura can push their tried and true mosaics to a new level, offering a new
perspective on surface treatment and a subtle shifting of color." – Owner and
Executive Vice President, Johnny Marckx
Sustainability
In 2007 a state of the art glass production facility was built from the ground up, maintaining Oceanside Glasstile's standards of reduce, reuse, recycle. Annually they use more than 2 million pounds of recycled bottle glass and in 2009 they reformulated more than 20 colors, now with up to 97% recycled content. A co-processing partnership has allowed them to almost completely eliminate their manufacturing waste from going to a landfill. Oceanside Glasstile's energy efficient plant also utilizes a closed loop furnace system – instead of releasing the heat given off by the furnaces, the chimneys follow a path right back into the furnace, ensuring all heat expelled is captured again to reduce their carbon footprint and increase their energy efficiency. As is evident in their product and company values, they are committed to ongoing process advancements and environmental stewardship.
Pricing
Price varies depending on pattern.
Oceanside Glasstile
OCEANSIDE GLASSTILE, BORN AND RAISED IN SAN DIEGO, IS A PIONEERING COMPANY WITH A FUN LOVING EDGE. WE'RE A SUSTAINABLE MATERIALS COMPANY. A JOYFUL DESIGN COMPANY. WE ARE MANY THINGS BEYOND BEAUTIFUL TILE, AND WE ASPIRE TO A DIFFERENT MODEL OF CONSUMPTION -ONE THAT PUTS SOCIAL RESPONSIBILITY AND PERSONAL VALUES ON EQUAL FOOTING IN THE ADVENTURE OF CREATING YOUR HOME.

"Cheers!" It's the first word our glass hears before beginning its journey to up-cycled glory. Recycling is in our DNA, and each year we melt more than 2 million pounds of post-consumer bottle glass. The result – a gem-like substance crafted into stunning glass tile. We continuously strive for improvements in energy efficiency, and maintain a closed loop manufacturing process where we re-melt all of our own glass trimmings. We are always on the lookout for more ways to make Mother Nature proud.

With over 45 colors and 3 finishes our hand-crafted recycled glass makes a fine product for any application. From Kitchen and Bathroom backsplashes, to floor and feature wall applications to backyard BBQ and Swimming pool installations - Oceanside Glasstile has the perfect hand-crafted glass tile for your needs.

With the finesse of our hand-crafted approach and the sophistication of our water-jet technology, there is hardly anything we can't accomplish. Custom projects from Murals to water-jet signs, bespoke patterns - even custom colors are a cup of tea we love to enjoy!

Please visit Oceanside Glasstile's websites at www.glasstile.com or for more information about our company and products.