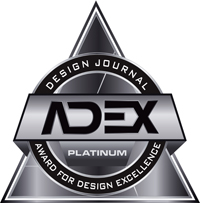 2017
Sustainability
The core of the Conform Series is the pin connection system, which enables arms to be interchanged and attached to a variety of base options and
accessories. This allows a single desk mounted monitor system to easily become a dual arm system, or a desk mounted system to become a toolbar mounted system, or a wall mounted system to become a pole mounted system. As your needs change, Conform can easily change with you.
Notes
These arms are designed for fast and easy installation, and are pre-assembled, ready to slip on to your selected base option with ease. Utilizing the interchangeable pin connection system, Articulating Arms can be used with Conform Static arms, accessories, and a variety of base options. Reconfigure the Conform as hardware and office personnel needs change.
Workrite Ergonomics
Workrite Ergonomics, Inc. (http://workriteergo.com/) was founded in 1991 in Novato, CA, and is a classic entrepreneurial success story. From inception, the focus at Workrite has been to produce and sell only the highest quality ergonomic products for the office workplace. For this reason Workrite became recognized as a highly creative and innovative company, and a leader in its field. To support the demand for ongoing development, Workrite utilizes a great design, engineering, manufacturing, product management, sales and customer service staff. In 1998 Workrite introduced a line of height adjustable tables that today has grown into an extensive ergonomic office furniture offering, side-by-side with the broad line of Workrite accessory products. Our entrepreneurial spirit and focus on the rapidly growing ergonomic products niche support significant growth and success in the ergonomic office furniture and accessory marketplace.

As a manufacturer, Workrite takes care to protect the environment and the health and safety of our employees and community. We strive to develop products and processes that use recycled materials and environmentally sound manufacturing methods.

Our ergonomic products increase individual employee productivity through enhanced alertness, and improved health and comfort. This translates to greater organizational productivity through increased time on task, employee retention and reduced injury costs.