dweLED by WAC Lighting unveils the Interlace Bath LED Luminaire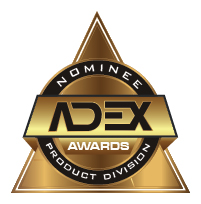 -1-0
Focused on a timeless silhouette, scaled up metalwork and an enduring finish, this luminaire features a tightly engineered fit and finish to coordinate seamless with upscale hardware and fixtures. A continuous construction, a flexible diffuser, and powered aircraft cable suspension complete an overall clean, seamless look. Interlace features an aluminum body with seamless interlocked loops with an acrylic diffuser in a chrome finish.
Baths are ideal places to demonstrate illumination performance from proprietary LED technology where color quality and brightness requirements are the greatest. The driver is concealed within the canopy which powers high output LEDs. Interlace dims down beautifully with ELV, 0-10V or a TRIAC dimmer. It is damp location listed and meets Title 24 Compliant.
Offered in a clean look with ample illumination in color temperatures best suited for the intended space, The luminaire is available in 28-inch and 38-inch widths while delivering up to 1637 lumens at a 90 CRI, 3000K color temperature and 50,000 hour rated life.
Notes
About dweLED by WAC Lighting
The dweLED collection from WAC Lighting is all-LED technology driven with a design fit for residential, commercial and healthcare spaces. WAC's dweLED has merged a contemporary and transitional style with functional, energy efficient indoor and outdoor lighting that you will love. Mid-upscale homes with transitional home décor, multifamily high-rise development or assisted living residences. The dweLED collection has options to meet both indoor and outdoor LED lighting needs. dweLED offers nostalgic design elements, beautiful and visually interesting hardware with quality finishes and substantial illumination.

WAC Lighting

WAC Lighting is a global, future forward designer and innovative fabricator of solid state luminaires, electronics and lighting technologies for Luxury Residential, Commercial, Hospitality, Institutional, Retail and Architectural applications, specializing in track, recessed, under cabinet, monorail and decorative lighting.
WAC has developed a stellar reputation for upscale decorative and task lighting lines backed by an extraordinary level of service, an unprecedented shipping record, and a Five Year Product Warranty. To reflect Green energy saving strategies, social progress and community involvement, WAC uses the brand standard "Responsible Lighting" that reflects the company's holistic approach to business, encompassing a deep commitment to responsible eco-friendly manufacturing, extensive research/development, energy saving technology, and altruism.
WAC offers a broad range of award-winning products: LED and Low/Line Voltage Track and Rail Systems; LED Low/Line Voltage Recessed Downlights; InvisiLED®, LED tape systems for indoor and outdoor applications; Artisanal Glass Pendants and Wall Sconces; Display Lighting; LEDme® Step and Wall Lights; and SMART Transformers. Nearly 90% of WAC Lighting products are fabricated, to a component level, within its wholly owned zero-landfill manufacturing campus in China.
WAC Lighting Global Headquarters and Eastern Distribution Center is located in Port Washington, New York with Western Offices and Distribution Center in City of Industry, California. WAC may be reached at 1.800.526.2588 or by visiting www.waclighting.com.