Abac¡ featuring Recycled Banana Fibers sourded from South America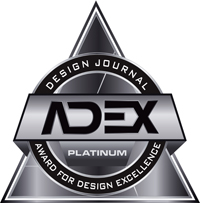 2012

• From the lightness of Muslin (# 8011) to the coolness of Slate (# 8013) and the exotic earthiness of the mid-tone, neutral brown Bali (# 8012), the new colorations were designed to meet customer and market demands for a broader palette of natural hues.
• The collection features recycled banana fibers sourced from Central and South American banana plantations.
• Abacá offers a distinct, natural look and texture that result from randomly sprinkling the banana fibers throughout the material to create an organic, non-directional design.


Lamin-Art
Lamin-Art, a U.S.-based company, has supplied the commercial interior design and architectural professions with an exceptional selection of innovative design-statement laminates and outstanding customer service for more than 50 years. The company's exclusive designs can be found in high-profile retail stores, hotels, restaurants, showrooms, trade show exhibits and more.