Wilsonart Premium Laminate With Gloss finish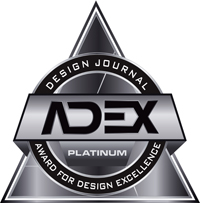 2010
Awards
The company has been recognized by the Smithsonian Institution's Cooper-Hewitt National Design Museum, Interior Design magazine and Home Magazine for design excellence.
Pricing
Check with your local Wilsonart Distributor.
Notes
Through the use of materials from well-managed forests and recycled sources, Wilsonart offers High Pressure Laminate (HPL) products manufactured in the USA that provide a responsible solution for green building projects. Now the company's key products have been certified by Scientific Certification Systems (SCS), the global leader in third-party evaluation of environmental and sustainability claims. Wilsonart certification is posted on www.fsc.org and www.scscertified.com. For more information, call the Wilsonart Customer Service Hotline at 800-433-3222. Customers can also visit sustain.wilsonart.com.
Wilsonart, a world leading engineered surfaces company, is driven by a mission to createsurfaces people love, with service you can count on, delivered by people who care. Thecompany manufactures and distributes High Pressure Laminate, Quartz, Solid Surface,Coordinated TFL and Edgebanding and other engineered surface options for use in the office,education, healthcare, residential, hospitality and retail markets. Operating under theWilsonart®, Resopal®, Polyrey®, Arborite®, Laminart®, Bushboard™, Shore™, Mermaid™, RalphWilson®, KML® and Durcon® brands, the company continuously redefines decorative surfacesthrough improved performance and aesthetics.