Staron Killer Whale Kitchen Island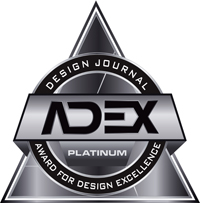 2015
Notes
Color(s): Pure White and Solid Onyx
Samsung Chemical USA Inc
You've probably heard of Samsung, a global company with quite an imagination. For more than 70 years Samsung has strived to bring the world to creative new heights. From medicine to skyscraper construction, Samsung is everywhere. As the global leader in high-tech electronics, Samsung designs some of the world's most advanced products. That perpetual search for ideas to improve people's lives also drives the energy behind Samsung Surfaces.

Samsung Surfaces is specialized in solid surface and quartz surfacing materials. The combination of high technology and high design in these materials can turn any interior project into a fully-functional work of art. Our wide range of products, colors, designs, and support services are distributed through three integrated brands: Staron® Solid Surfaces, Staron® Tempest® and Radianz Quartz.

Staron® Solid Surfaces and Staron® Tempest® are incredibly versatile products. Acrylic decorative materials with endless commercial uses, these surfaces also make the perfect countertop for a home makeover or construction project.

Radianz Quartz combines the beauty of the natural world with Samsung intelligence, fusing natural quartz crystals with technologically advanced polymers. The result is an extremely hard, durable quartz surface with performance and aesthetic characteristics that go far beyond that of other stone products.

Samsung products have always been smart and beautiful, and our surfacing materials are no different. Staron® Solid Surfaces, Staron® Tempest® and Radianz can be transformed into premium countertops that turn your home or business into a truly unique space.