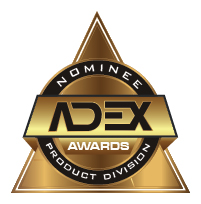 2016-17
The Litetronics waterproof LED High Bay makes it easy to improve your lighting in high ceiling environments. Made in the USA and DLC approved, our standard glass lens product is IP 65 rated and can be used indoors or out for direct and indirect lighting. 5.2" tall, under 16" wide and only 16-18 lbs, it is an easy install compared to most high bays offering up to 29,000 lumens. Our products carry DLC approvals.
Popular Options Include:
• White color
• Shatterproof polycarbonate lens material with an impact rating of over 45 foot-pounds.
• Polyester powder coat designed for cosmetic consistency and strength against highly corrosive materials
Sustainability
• Product life 3-4 times greater than metal halide.
• No mercury or disposal costs
• Motion sensing and integrated dimming options
• 50% less energy use compared to Metal Halide
• 15-25% energy savings compared to fluorescent T8 and T5 HO based on Duke Energy figures of watts per bulb
Awards
Electrical Wholesaling Top 10 LED Picks for June 2016:

http://ewweb.com/gallery/ews-top-10-led-picks-june-2016#slide-5-field_images-34121

Notes
• Mounting up to 40ft high
• 118-120 lumens/watt
• Uniform circular light distribution
• Waterproof IP 65 with glass lens
• Light weight and compact
• Optional PIR sensor for prox sensoring
• 7-year warranty*
• Optional polycarbonate shatterproof lens
• 0-10V low voltage dimming
• Higher Center Beam Candle Power
• Polycarbonate lens with NSF approvals
• Made in USA

Litetronics International
Founded in 1970, Litetronics International, Inc. is a global lighting manufacturer that specializes in engineering energy efficient lighting products that cater to the aesthetic and performance needs of the restaurant, casino, cinema, hospitality, retail, and agriculture niche markets. The company manufactures a wide range of commercial lighting products, including incandescent, halogen, fluorescent, compact fluorescent, cold cathode fluorescent, metal halide, and high pressure sodium lamps.

From the first Super Service 20,000-hour incandescent light bulb to the Micro-Brite cold cathode compact fluorescent light bulb, Litetronics has a long-standing tradition of creating innovative products for niche lighting applications. We're continuing that tradition today by engineering the most energy efficient lighting solutions that meet these niches' unique needs.

Over the past 40 years, Litetronics has evolved into an award-winning lighting technology innovator, producing numerous long-lasting, highly efficient lighting products. Our dedication to quality ensures that each product is manufactured to the highest standard of excellence. Learn more: www.litetronics.com.