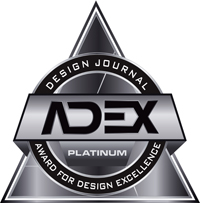 2017
With wear layers ranging from 12- to 30-mil, this collection is designed to be suitable for applications ranging from multi-family housing to busy environments such as hospitals and restaurants. Kaleidoscope provides the same reliability as standard Karndean collections.
Sustainability
Karndean's floors meet all required environmental criteria. They are FloorScore certified, eligible for LEED points, made with recycled content, and carry a low-VOC certification from the USGEI.
Pricing
As this is a custom program, price range is dependent on which products are selected.
Karndean Designflooring is a global leader in flooring design with operations in the USA, UK, Australia and New Zealand. By offering a wide range of colors, textures and finishes, our products allow you to create looks that are unique to your home or business and are guaranteed to last. With a passion for creating floors which are both stylish and practical, we're here to help customers find the right floor for their space, needs and unique style.