○
○

Fulham Company, Inc.
Fulham Company Group is a leading global provider of intelligent, sustainable commercial lighting components and electronics for use in commercial general lighting, parking structure, signage, horticultural, UV and other applications. The company develops and manufactures a variety of award-winning LED and emergency products, as well as legacy products across multiple lighting platforms. Fulham sells its lighting solutions worldwide through original equipment manufacturers (OEMs) and electrical equipment distributi ...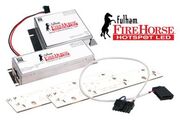 Fulham Company, Inc.'s Products
FireHorse HotSpot1 LED Emergen
2015 Platinum Award
Fulham's new field-installable, cULus Classified FireHorse HotSpot1™ Kits for Troffers add emergency LED lighting capability to existing ...
HotSpot LED Emergency Lighting
2014 Gold Award
Fulham HotSpot Emergency LED lighting systems offer the ability to add discrete LED emergency capability to either LED or non-LED luminaires ...
Fulham Company, Inc.'s Projects: