○
○

Innovative Office Products
Innovative Office Products is an Easton, PA manufacturer founded in 1986. Innovative designs and manufactures an industry-leading product line of mounting solutions for computer monitors, laptops, tablet PCs and keyboards.
Innovative's products offer several compelling advantages:
· Space savings: monitors suspended above the desk free up the work surface.
· Increased worker productivity: ergonomic benefits allow employees to concentrate longer, with fewer physical distractions.
· Greater workplace versa ...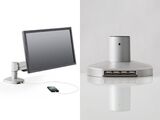 Innovative Office Products's Products
Innovative Office Products's Projects: