Collette Collins Design
Collette Collins – Furniture Designer and Fabricator

Collette Collins has been designing and building one-of-a-kind furniture and built-ins for 25 years. Today, she is an ADEX 2006 Platinum Award Winner and has created a wide range of customized pieces from furniture to complete kitchens and bathrooms. Every piece in her distinctive collection reflects Collette's meticulous artistry and attention to detail:

"Each of my pieces has a core, a soul. Every piece is connected to the environment around it, and there is a dialogue between the natural world and the hand-made object." – Collette Collins

Using a combination of salvage, scrap, fine exotic hardwood, leather, rubber, bamboo, and fabric, Collette's furniture takes functionality into the realm of high art. Her contemporary and original designs play with elements of organic form, elegance and surprise, conveying a feeling of life and movement that brings the natural beauty of the outdoors into interior spaces.

"The object opens a dynamic interchange with the individual that heightens perception, feeling and awareness of the beauty around us." – Collette Collins

Collette brings extraordinary craftsmanship to her work: each piece stands alone as a unique piece of functional sculpture designed specifically to meet the needs of her clients. She works the wood in unusual ways, bending and adding texture with wire brushes, chip carving and band saws to add visual appeal and contrast.

In keeping with her commitment to environmental sustainability, Collette ensures that no scrap of material goes unused. She often uses salvaged materials in her work, recycles excess bits of wood or fabric from one piece to another, and almost always uses a plywood core to save the exotic materials for the exterior.

"I find inspiration in Japanese joinery, Japanese and Chinese architecture, Danish Modern and Memphis Design." – Collette Collins

Collette describes work as "American Bohemian" and is proud of her commitment to traditional woodworking methods. There are no computerized tools in her studio; she relies on a combination of old-world craftsman and modern tools to create her designs. Old-school fabrication methods allow her to marry Scandinavian and Asian influences within her designs for a uniquely modern edge.

Collette studied Fine Arts at Cabrillo College and San Francisco State University and spent many years as a set designer within the film industry. Her set designs have been featured in more than 15 films, including "Sleepless in Seattle" and "The Vanishing." A practicing Buddhist, a discipline that provides inspiration and encourages patience, Collette believes spirituality plays an important role in her creativity.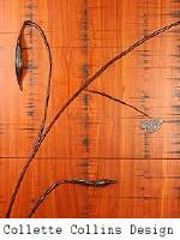 Collette Collins Design's Submissions