○
○


SitOnIt Seating
About SitOnIt Seating

SitOnIt® Seating is a market leader in high quality, high design, comfortable, and affordable office seating. SitOnIt Seating build-to-order products are manufactured in southern California for timely shipping in as little as 2 days. SitOnIt Seating is a brand of Exemplis Corporation, a leading U.S. designer and manufacturer of build-to-order furniture. Exemplis is headquartered in Cypress, California.

Learn more at SitOnIt.net.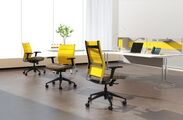 SitOnIt Seating's Products