○
○

Nova Lighting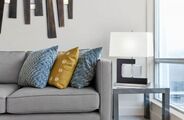 Nova Lighting's Products
Globe Table Lamp Weathered Bra
2017-18 Nominee
The Globe Table Lamp made by NOVA of California is the ultimate statement piece. The weathered brass highlights offer a tasteful contrast to ...
Globe Three Light Arc Lamp Wea
2017-18 Nominee
Whether it be in a dining area or a living room, this impressive arc lamp is comprised of equal parts beauty and charm. Explore the Globe Th ...
Nova Lighting's Projects: