○
○

Nurture by Steelcase
Nurture® by Steelcase is a company dedicated to providing user¬-centered solutions in healthcare. Nurture views the healthcare environment as an integral part of the healing process and provides holistic solutions that focus not only on product, but space as a whole, delivering research¬-driven, evidence-¬based solutions to complex problems in healthcare environments. For more information on Nurture please visit www.nurture.com.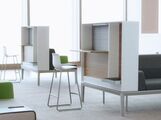 Nurture by Steelcase's Products
Regard
2014 Silver Award
Regard is a lounge seating solution designed with transitional moments in mind, it is comprised of 150 separate components that can be arran ...