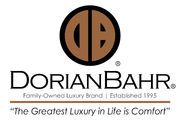 909 Business Parkway
Richardson TX 75081
United States
(214) 698-9936

Dorian Bahr | Dorian Bahr Textiles
Welcome to DorianBahr
"The Greatest Luxury in Life is Comfort"
DorianBahr is a Lifestyle Brand dedicated to bringing you exceptional products, design, and build services, with the goal to make your dream home a reality!
n 1994, DorianBahr launched with their own National Textile line. Since that time, the brand has grown extensively to supply hand-select interior design products not found in the retail market. Lighting, wall coverings, and tiles are just a few of the design build products that DorianBahr supplies directly for their clients. Every item you find offered through DorianBahr is carefully curated to ensure excellent quality and craftsmanship.
Dorian Bahr | Dorian Bahr Textiles's Submissions